Patio screen enclosure
Many homes have a patio screen enclosure or screen in porch built from aluminum. These types of enclosures are also popular for enclosing porches in the front of your home. The information here will give you an insight about how these aluminum porches are put together.
Typically the pieces used to build aluminum porch enclosures are made in 20 foot lengths, which are then cut to the sizes measured by the aluminum enclosure contractor. In many cases, the contractor deals with an aluminum fabricator, who cuts the rails to size based on a sketch so that the contractor does not need to bring long lengths of material to the job site.
Components used in a
patio screen enclosure
Most screened enclosures are built up out of 3 components. "C-Channels", "H-Bars" and "Corner Bars". These pieces, all made of aluminum are usually made by the same company that makes aluminum storm doors, so everything will fit together.
The contractor needs to accurately measure the space for the patio screen enclosure and then the storm door manufacturer provides all the necessary lengths of C Channels, H Bars and Corner Bars necessary to make the whole enclosure go together.
That makes it easier for the contractor, who now puts the whole enclosure together like a giant erector or construction set. The contractor usually only has to be concerned about how the roof will be constructed. On many porch and patio enclosures, there is often an existing roof so it just becomes necessary to cut the various bars to fit.
The picture shows a typical "C-Channel". In this porch enclosure system, the parts are all designed to work with a 1 3/4" storm door extrusion. The C Channels are laid on the concrete slab that makes up the foundation and also are screwed directly to any vertical brick walls as required. C Channels are also used to enclose the top of the patio screen enclosure where it meets the existing roof.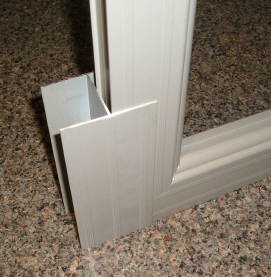 Once the perimeter of the porch enclosure has been laid out with C Channels, The panels can start being installed. The panels will usually be all the same height and, if its a big enclosure, will be similiar widths. The panels are set up with a single hung vertical storm window with screen and a decorative kick plate below. Although they can be made entirely with glass, or mesh or in whatever configuration is desired.
Once one panel is screwed in placed in the C Channel, An "H Bar" as shown in the picture is used to join the panels together. Sheet metal screws are installed right through the H Bar into the panels, and then covered with decorative plastic caps to conceal them.
H Bars are used in between all the panels and also along the top, if there are any transom or additional panels above.


At the corners of the porch enclosure a "Corner Bar" is used. These are vertical bars designed to join panels at right angles. They make a nice tidy looking corner.
Agian sheet metal screws go right through the corners into the panels to secure them in place.
With these different shapes a contractor can quickly fabricate an enclosure to fit just about any available space. Care has to be taken if the space to be enclosed is over 8 feet high. It may be necessary to install reinforcing for the porch enclosure if large amounts of glass need to be supported.
This is usually accomplished by building wooden beams into the porch enclosure, and capping them with aluminum to match the rest of the enclosure.
Porch Enclosure Colours and Styles
One of the nice things about aluminum porch systems is that they are available in a variety of colours that never need painting. Once installed just periodic washing with soap and water is all thats necessary.
Wooden porch systems are beautiful in their own right but do require more maintenance. Water will get into a wooden enclosure over time no matter how good the joinery is.


Do you have any questions about your
patio screen enclosure ?
Have any questions about what you are reading here ? Do you have any information that you can share ?
Feel free to ask away, and better yet post your photographs. As they say "a picture is worth a thousand words".
I will try to answer your question. If I dont know the answer, I will try to find it for you. <br><br>If you have some interesting information that you would like to share, please do so.
Anything that helps others get their problems solved is fine by me. 
Have A Great Story About This Topic?
Do you have a great story about this? Share it!
What Other Visitors Have Said
Click below to see contributions from other visitors to this page...