Milgard screen door repairs

by Kathy
(Los Gatos, CA)
Have milgard screen door but don't know how to remove the screens from the sliding doors. Need to have the screens replaced.

Milgard door types are sometimes top hung designs. With those you loosen the top and bottom rollers and pull bottom of the door out toward you until the whole door is at an angle that allows the top rollers to pop out of the top hung track.

If the door has standard tracks at the top and bottom then the whole door should come out as soon as you get the bottom off the track.

If the door is tough to remove, often something else is causing the problem, such as a cracked foundation or settling of the house framing.
Milgard Screen Door Hardware Broken
by Lane & Cheryl
(Colorado Springs, CO)
We have an 11-year-old Milgard patio door and matching milgard screen door in almond. The hardware on the patio screen door is shot...won't lock anymore. We have taken it off and tried at Lowe's, Home Depot and Ace Hardware to find a replacement. Nothing is working.

Any ideas?

Lane & Cheryl
Colorado Springs, CO

Post a photograph of the lock hardware here or email it to me at the address on my home page.

I will try to identify it and get price and delivery for you.

Milgard Patio Door Screen rollers
by Kevin O'Connor
(Dana Point, CA)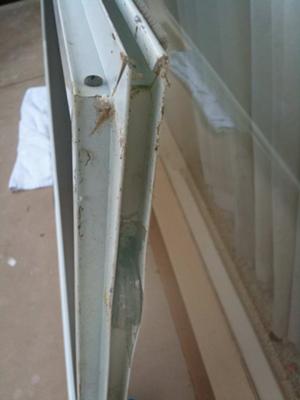 I have Milgard Rolling Screens with rusted wheels. Do you have a replacement kit for them? They have the adjustment screws on the each side of the track - just barely visible in the picture. They are metal (Zinc?) and do not last very long near the ocean.
When you are close to any ocean you really need stainless steel rollers to get any kind of life out of them. There are screen doors that are specially made with stainless hardware specifically for use near the ocean.