Patio screen door roller kits
The patio screen door roller kits on this page are my attempt to provide two sets of rollers which will fit a great many types of screen doors.
Most screen doors are held together by friction fit corners and the tension of the screen cloth itself. Over time the old rollformed screen doors get looser and looser.
These corners themselves are often made of very thin die cast metal. If the door ever gets stuck and any amount of force is used to unstick it, the corners can break. 
Quite often the cloth will get replaced but the broken corners will be left the way they are, and the result is that the door never works properly from that point on.
If you have to take the door out, it makes sense to take a little extra time to check all the rollers and corners and replace them if necessary. 
My corners are shown in the bottom half of the picture below. They are heavy duty and designed to replace many different types of corners of the same overall size in the top half of the picture.

These corners are thicker and stronger than many of the ones they replace. The springs are stronger, they use steel ball bearing wheels instead of plastic. They will help your screen door run properly for longer life.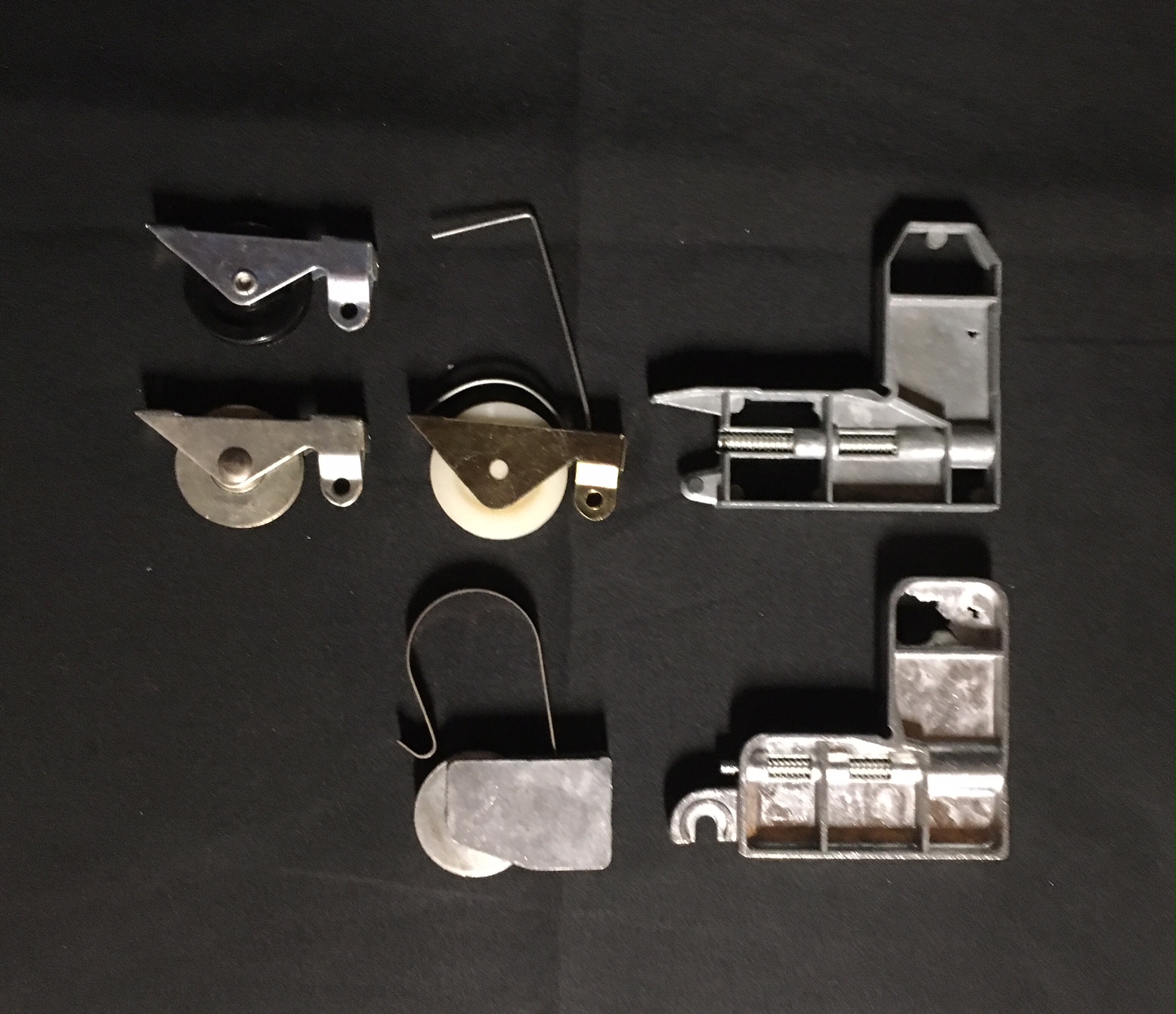 Patio Screen Door Roller comparison
The picture above shows how many screen doors use a corner that measures 1-1/8 inches x 13/32 inches to hold them together.
My roller and corner kits shown in the bottom of the picture will replace the rollers and corners in the top half of the picture. That corner is used by a large variety of window and door manufacturers.
Notice how the springs are missing in the other patio screen door roller examples, they often fall out right after the roller gets installed. The springs in my rollers are much thicker and are locked in place.
The video below shows you how my rollers are installed
Patio Screen Door Roller kit video
Dimensions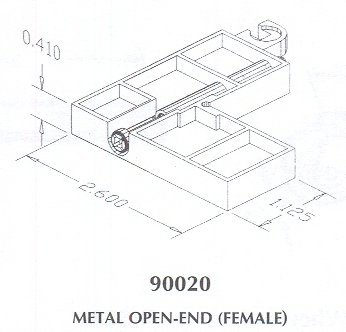 There are also rollers that designed to work with these assemblies which use steel ball bearings for really smooth rolling and operation as well as hefty steel springs that support the door and dont break easily.
The rollers can easily be removed and replaced without taking the frame apart. Just make sure you have a slider that uses 1-1/8 inch corners, because these rollers are only made for that size.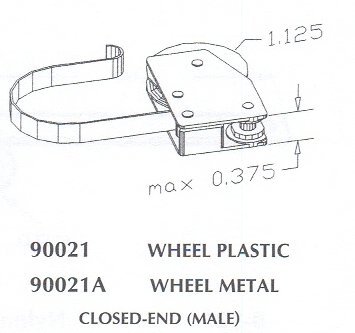 The above roller and corner will fit in a wide variety of doors. Just make sure the existing assembly measures 0.125" x 0.41".

In some Anderson doors the opening for the patio screen door roller may be slightly too far down, the opening may need to be widened by 1/4".

This can be accomplished by grabbing the edge of the metal with pliers and levering out pieces of aluminum in 1/8" chunks. Or a file could be used to widen the opening enough to allow the new roller to be properly inserted.

Roller kit ordering instructions
You can purchase the above rollers as a kit, with 4 corners and 4 rollers suitable for completely rebuilding an old sliding screen. Just be sure that your slider uses this size of roller.

No. 90020 Roller and Corner kit
USD $47.99 CDN $61.00
Kit Contents:
4 Metal Rollers #90021/A
(Nylon available on request)
4 Corners #90020
Shipping within the continental USA and Canada included
Combination rollers and corners
Here is an example of a popular roller and corner combination where the roller is riveted to the corner as a single unit. It is used by many different window manufacturers.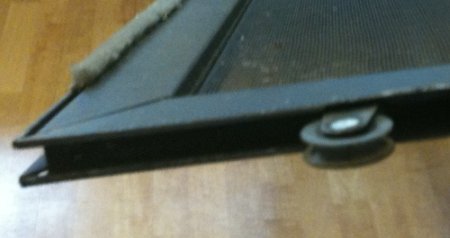 Just be careful when ordering combination rollers and corners. These doors are very popular and are made in 1-1/8 inch and 1 inch wide versions. 
To make things worse, they make at least 4 different thicknesses too. 11/32" is very common 
The big problem is that you have to take the frame apart and pull the corners out and measure them before you can find out what size you need.

If yours has corners 1-1/8" wide, you can use the 90020 Kit above. 

But if you have the smaller 1 inch wide corner, and the corner is 11/32" thick you need the kit that has the slider rollers in the picture below.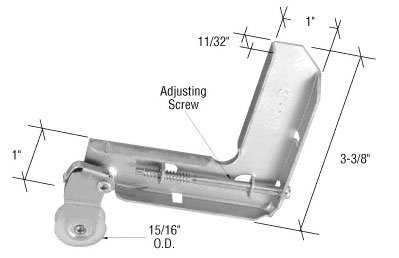 If you want exact replacements for these patio slider rollers, use the kit below.
Unfortunately these are not available with steel rollers anymore, just nylon
No. 02524-S Roller and Corner kit
USD $47.99 CDN $61.00
Kit contents:
4 corners with 15/16" diameter nylon rollers
Shipping within the continental USA and Canada included

Canadian customers:
USA customers:
If you are not absolutely sure what size you have, contact me and I will try to help. A good way to be sure is to email me pictures of the wheels you need or email pictures of the broken wheels as they are in your door.
Working together we should be able to figure out what you need.