Screen Door Locks and Latches
Screen door locks and latches in use today have been around for forty or fifty years pretty much unchanged. If you are in a situation where the sliding screen has a broken lock, or no lock at all its really not that hard to add one.
If there is room between the screen door and the patio door, I like using the metal surface mount locks. They work better than the cheap plastic butterfly locks originally built into the screen door frame.
They also fit a lot of different screen doors except sliding screens that are right up against the patio door 
Surface mount screen door latches
by John P.
(Vancouver, WA)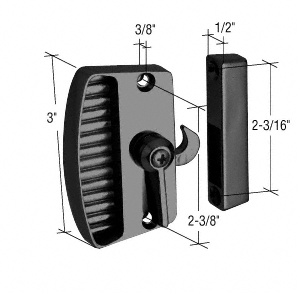 Having trouble finding a latch for our sliding screen door. It's an inside latch only, do they still make them?

Hi John;

I uploaded a surface mount style screen door latch picture and a link for the same lock on Amazon. These locks mount right on the inside of the screen door.

They work fine if you have room between the sliding door and the screen door. Some screen doors have no clearance at all.

If thats the case it still might be possible to replace the mortise or butterfly style lock that was originally built into the door.



Need a latch for the
sliding screen door
by Bob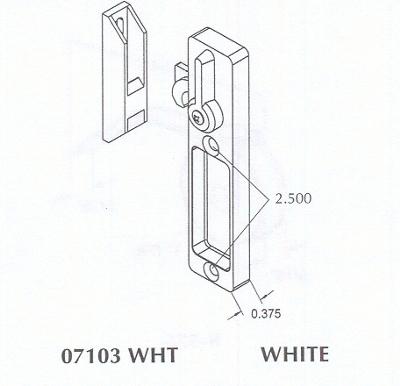 My sliding screen door has a handle but NO LOCK. The jamb has no latch to lock on to. My 13 month old wants to get out, its so nice outside on southern california, it's days before she figures out how to slide the unlocking screen.

Are there kits that come with an after-market latch? What terminology am I missing to describe a screen door latch/lock?

Thanks, Bob

There are several surface mount locks you can install. I have uploaded a picture of one of them. Make sure there is room between the patio door and screen door for the lock.
There does not appear to be a link on Amazon for this one. Its basically the same lock as the A155 but with a narrower handle that some people like better. It is also white so it matches a lot of screen doors exactly.
I can supply this lock if necessary. Call or email me using the contact info on the bottom of the home page

Need to keep screen door closed
by Amy
(Washington Twp, MI)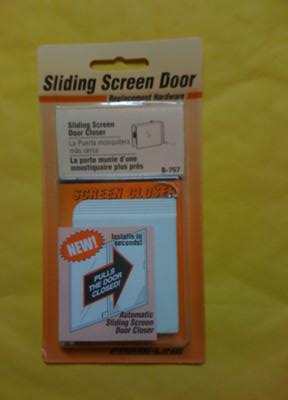 We have a cat that needs to remain indoors- however- he loooves the outdoors and very easily can get our sliding screen door to slide open for him by pawing at the base opening. Our only solution is to lock it but if we are outside, obviously this doesn't work so well! We were hoping to find a dual sided lock that can be accessed if we are in or out. Haven't been able to find one yet. We have tried using strong magnets but that doesn't work. Any ideas????

There are a number of different screen door closers that automatically close the door after its been used.

One of the simplest ones works like a retractable leash. It has a string which attaches to the door and a plastic housing which mounts to the jamb.

The string is spring loaded and pulls the door shut after its been opened



Screen Door Lock Broken...
by dena
(Riverside, Ca)

Question

Hi,
We have a screen door and the locking mechanism is now broken. My husband said he can't find the replacement part and he said that to fix it we would need to replace the whole door. Is this true? This sounds nuts! Is there a way to fix the locking portion? Right now we are using a screw driver everytime we need to get in and out of the door.
We put the tip of the screwdriver in the circular outer part that turns the lock up and down into the door jam....
Can you tell us where we can get a replacement part or how to fix this so we don't have to do this everytime?
Thanks, Dena

Answer

Hi Dena, I have a few different kinds of locks that you can mount on the screen door to take the place of the one thats broken.

If you can post a picture of the lock you have, I might be able to tell you if there are parts available for it.

I also have a screen lock that is broken. It is an aluminum screen patio door 36 inches wide. The door, where you slide it open, had a small latch inside that would go up and down to lock or unlock. It slid into a small metal piece on the door frame. I do not want to buy a complete new screen door. How and where can I find a lock replacement or fix it myself. Thanks for any help

I have a few different styles of screen door lock, call me or email at the numbers on the home page


Sliding screen door lock
i have a really old sliding screen door about 56-60 yrs old.i havent had any luck trying to find a lock to replace the very old one i have now,so if you can help me in any way i would greatly appreciate it.

Upload a digital picture and I will check through my catalogs to see if anything is available


Screen Door Latch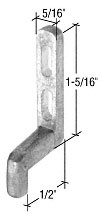 Where can I find the screen door latch as shown in the picture ? I have tried Home Depot but they don't have it. I live in Vaughan, Ontario.

Thanks for the help....

A glass shop would be the best place to look, there have to be some in Vaughan. Many of Canada's biggest window companies are in Vaughan.

My catalog shows 9/32", 7/16" and 11/16" but not 1/2". The 7/16" should work if you stuck a washer or two behind it.

If you have no luck at the glass shops call or email and I will see if I can pick one up and mail it to you.


sliding screen door catch gone or broken
by Vicki
(Kansas)

I have a Pella sliding door with the screen on the inside. Early summer it quit staying out of the way. It should have a catch of some sort to keep it in place, but I think it fell out. I found a plastic piece laying on the floor below. I have attached a photo of the plastic piece. Can you tell if it is broken or just needs to be put back in. If I can put it back, please show or tell me how. I am not sure how old the door is.





LaChaplin
by Laurie
(Romulus MI)

We just installed a new patio sliding door and screen. Everything works fine except when you close the screen or don't close it softly or bump it it will open. There is a latch/lock but not for when you are not outside. There is nothing to keep it closed. Do you have any suggestions of a tension latch or magnet catch? Thank you for your help.

A screen door closer might do the trick.

Screen door closer to automatically close the screen door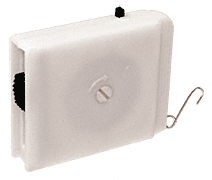 Hi,

Is there a device I can mount to the patio screen doors that once you open it, it auto shuts ?

Yes, there are a few different types of spring loaded automatic closers. I uploaded a picture of one of them.

You attach the square plastic housing to the screen door with a screw or double sided tape, then hook the line to a screw in the door frame.

As you open the door, the spring tension automatically closes it behind you.


Replacement Door Latch
by Brendan Casey
(Ann Arbor MI)

I'm looking for a replacement door latch. Attached is a picture, It's a simple latch which as you may seen the housing cracked. I don't want to replace the whole door and as you may imagine I'm having trouble finding a replacement.
I rely on this door because the latch does lock from the inside and my cat uses a cat door in the bottom of it to get in and out of the house most of the year. So it's a storm door that serves for security purposes too.


Screen Pull Handle replacement
by Brent
(Apple Valley MN)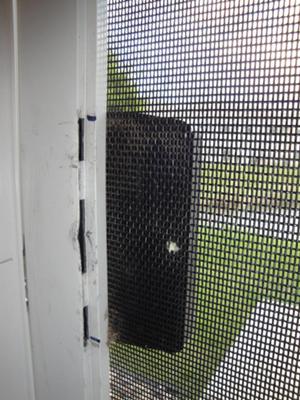 I am looking for a new screen door latch/handle to replace one that broke off. I have attached a photo for you to review. I have looked at the hardware stores in my area but have had no luck. They did have a few handles in stock however none of them were the correct size. The size of the handle is 4" with two pegs that slide into the screens frame on the inside handle. The outside has two screws that secure the handle to the frame.

The handle is similar to:
http://www.lowes.com/pd_128727-76018-A+142_4294856678+4294859955_4294937087?productId=3010747

However mine is about 3 & 5/8 inches center hole spacing on the outside.

Where can I get a replacement handle?

Thanks
Brent

Screen door pull handle missing
by Pierre
(Commerce MI. USA)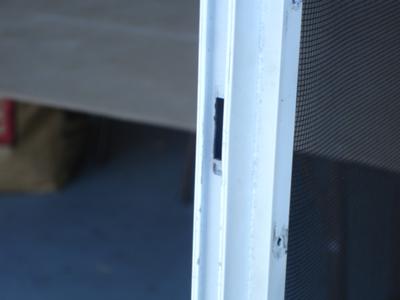 Question:

I am trying to find a replacement screen door pull for my sliding doorwall screen door. I replaced the screen and all four rollers but can not seem to find the correct door pull. I am including a picture and hopefully you can locate one for me. The dimensions of the screw holes are 3 1/2 inches from hole to hole. the old one screwed in from the outside into these holes. The inside did have a latch for locking. there was a screw that went through the screen to connect the outside and inside handle. the inside secured under the lip of the frame. Hopefully these pictures will help

thanks

Pierre



The pulls used on sliding screen doors are pretty much standardized. A lot of them use the 3-1/2" center to center distance.

If you cant find what you need in Loews or Home Depot just contact me and I will provide you with a handle that will fit.

Screen around handle for sliding screen door keeps getting
holes from kids
Kids playing at my house keep poking holes in the screen around the handle of my sliding screen door. I have seen protectors that snap on around the handle to prevent this. Do you have some? I have had no luck finding them.

Thanks!

Screen door riveted handle
Question:

the door has a riveted handle how do i get the screen out from under it and replace the screen


Find a sharp drill thats just a little bigger than the diameter of the rivet. Gently start drilling right through the head of the rivet.

Once the rivet head comes off stop drilling. You will easily be able to remove the handle. To reassemble use new pop rivets and a pop rivet tool or attach the old handle with sheet metal screws

Removing Riveted Screen Door Handle
by Mark U
(Orlando Florida)

I have an aluminum sliding glass door with a riveted on handle that needs to removed to get the spline out.

You cannot get the spline tool in there because of the closeness of the handle and it is riveted in place.

What should I do, drill the rivets out or cut the handle off, any suggestions? The handle is about 3.5 inches long where the spline cannot be accessed due to this handle...Thanks

Hi Mark;

You will need to drill the heads off the rivets that hold the handle on. Use a good sharp drill almost the same diameter as the head of the rivet.

One little touch or two with the drill should be fine. Dont push too hard or you will make the rivet holes too large and you wont be able to put new rivets back in.

Hope this helps

Have A Great Story About This Topic?
Do you have a great story about this? Share it!
What Other Visitors Have Said
Click below to see contributions from other visitors to this page...