Very confused about this #screen #door roller
by Thomas
(Calgary, Alberta Canada)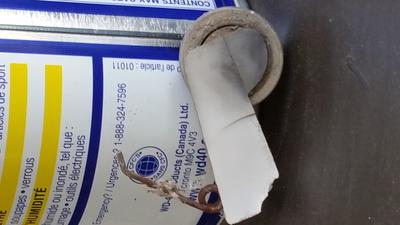 Part of 1 I could remove
I have been trying to fix my sons screen door at his house. Reviewed many videos on this and figured it would not be to hard. When I got his door off there was two rollers at the top and two at the bottom. I don't believe the ones at the top do anything.

In everyone of the videos it showed popping in a number 1 philips and spreading these arms apart to remove the wheel. None of these parts exist in 3 of the openings and I have no idea how to get the remaining parts out. Anyway will send all the pictures I have in case you have a neat solution I myself am thinking a new screen door is best option.

Hi

Thanks for the great pictures, really appreciate this ! These rollers are quite near and dear to my heart.

These rollers have wheels or bearings that do come off in the way that you have discovered. But if the nylon housings are old and brittle they can easily break which appears to be what has happened to the top rollers and as you found, the bottom rollers too.

I typically put steel ball bearing wheels instead of the nylon ones because the door just flies open when this is done. Half the time the nylon replacements are too narrow and grip the track making the door worse than it was without rollers at all.

The housings for the wheels cannot be replaced without taking the door frame apart and pulling out the corners. The housings also have little springs that love to fall out once you have the whole door back together.

The corners that hold the frame together are often made of solid chunks of aluminum in the older versions of this door. This is nice because if they become loose you can pry the tangs apart a little to make the old corner fit tight again. The newer versions have corners made of magnesium alloy which can only be replaced and can't be "adjusted" to make them fit tighter in old worn frame.

Please excuse me rambling on but as I said, I know quite a bit about this roller system.I have all the parts, corners, housings, springs and ball bearing rollers and if you need parts can certainly help. If I have not covered your questions please comment or email me at the address shown at the bottom of the home page of fixingscreens.com

Thanks!


Join in and write your own page! It's easy to do. How? Simply click here to return to Screen Door Rollers.