What lock recommended for replacement?
by Ryan
(Cleveland)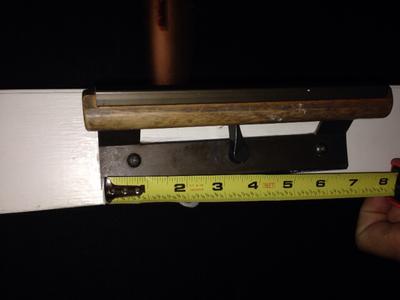 I can't identify the brand for replacement of inside and outside handle with lock mechanism.
Any help would be appreciated.

Hi Ryan;

Thanks for the great pictures!

The lock is what I know as a E2468 which is commonly used with wooden patio doors. Its a E2014 lock with a steel escutcheon plate on the front to adapt it to wooden doors.

The Handle set looks like it has screws drilled through the door wider than standard 3-15/16" centers. Thats the distance used by most universal style handlesets used at Home Depot and Lowes.

You can still use one of those handle sets but you would have to drill 2 new holes right through the door.

I have the E2468 locks but no handle set. I dont have the latch keeper shown on the jamb but yours looks in good shape and probably does not need to be replaced.

Join in and write your own page! It's easy to do. How? Simply click here to return to Patio Door Locks.