Vinyl track for replacement window screens
by Tim
(Berkeley Heights, NJ)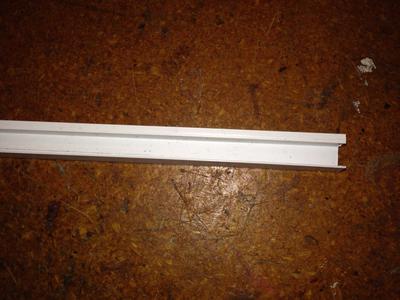 track is 51 1/2 inches long
I'm looking to replace broken vinyl screen track on my vinyl replacement windows. The track is used to hold the screens in place outside of the double hung windows. This track is removable but I can't find a replacement anywhere. The windows are at least 18 years old. There are no markings on the windows to indicate a manufacturer. Any help with helping to identify this track would be greatly appreciated. Please see the photos I've posted.

Hi Tim;

Thanks for the excellent pictures !

I have vinyl U channel tracks 3/8" wide but they dont have the clip on rail shown in your sketch. This is a special extrusion made for the window manufacturer.

One thing I would try is to ask a local aluminum siding contractor if they could bend you up an identical rail in white aluminum. You might find someone who would be willing to do it and you would end up with a much longer lasting part than the old vinyl track.

You can sometimes find aluminum U channels in Home Depot and Lowes and specialty places like Metals Supermarket. These could be painted to match the window then attached with double sided adhesive tape.


Join in and write your own page! It's easy to do. How? Simply click here to return to Window Screen Questions.