Surface mount patio door handle
by Ellynne
(Montreal, PQ, Canada)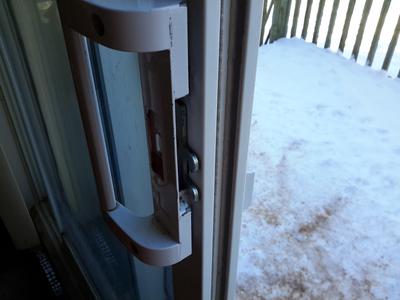 2 days ago the slider in my surface mount patio door handle snapped off at the pin leading to the inside of the handle. The door is now insecure - not good.

I have looked everywhere locally and on line to find a replacement for this handle.

In searching through your website I found a page called 'Patio door handles' The first handle shown, part 070001 is identical to the one I have here. My door is white, it slides open from right to left, the handle screws are 6-5/8" apart and the door frame itself is 1-5/8" thick.

Do you know where I can purchase one of these handles as a replacement for my broken one?

Join in and write your own page! It's easy to do. How? Simply click here to return to Patio Door Locks.