Sliding patio door repairs

by sami
(leicester)
hi i have aluminium sliding doors and one of the part(fixed one) his glass is proken .please how i do to change the proken glass wihe a new one ...thank u

Sliding patio door repairs such as changing the glass is best left to a glass shop. Modern patio doors and building codes call for tempered glass.

The size of the glass depends on the type of frame it is installed in. The type of glass is also important, is 5mm single glazed or is it an Insulated Glass unit. If so, what thickness is it.

Older patio door frames are often held together with only 4 screws but modern vinyl doors are often glued together so the whole panel has to be replaced.

Better to get a local glass shop to actually look at the door and give you a proper quotation.

Floor too high for patio slider
to work properly
by lee
(south Carolina)

Two of my sliding patio screen doors bind heavily at the bottom. The reason for this is that a tile floor was added after the patio slider and the height adjustments are inadequate to raise the slider overhang high enough.

Are there larger wheels that could be used or can I remove the 1/2 inch lower overhang?

Is there another answer?

You can sometimes swap out one roller design for another. Usually I do this where the roller diameter is the same, but as long as there is clearance, you could fit a larger diameter roller.

Most patio rollers are 1-1/8" and 1-1/4" diameter. There are a few that are 1-1/2" diameter. At best you might gain 1/8" to 1/4" extra height adjustment.

No way to tell for sure until the old roller is pulled out of the doors and measurements can be taken

What do 5 foot aluminum
sliding doors weigh
by Debbie
(Bancroft, Ontario, Canada)

I want to know if I can carry patio slider on roof rack on gmc jimmy

Hi Debbie;

The whole door, frame door panels and screen probably weighs between 200 and 300 pounds depending on the type of glass you have in the panels. One glass panel should weigh between 40 and 80 pounds.

Check with your GM Dealer / Service rep to see what the roof rack can handle. My guess is that It would carry one glass panel, but not the whole door.

If this is a new aluminum panel, you might be able to buy it "knocked down" with the whole frame in pieces. They are just screwed together anyway. That makes the door a lot easier to transport.

Aluminum Patio Slider
weatherstrip finseal repair
by Sally
(Acton MA USA)

Hi - We have a 25 plus year old sliding patio slider, aluminum. It is in fine shape and we don't want to replace it. However, the fuzzy insulating strips between the two doors (opening and stationary) and around the frame are in need of replacement. We do not know the brand of the patio slider, it has only a label that says Quality Certified, Code 82-1 on it. We don't know what these fuzzy strips are technically called, and cannot find them at Home Depot or Lowes. Can you help us by suggesting what the part is called, and where we might look for it? Or what we might substitute?

Many thanks!

Hi Sally;

These strips are called "finseals" and sometimes Schlegel seals after the name of the company that pioneered them.

Some glass shops sell and install finseals as they are often replaced in high rise condo complexes and condominiums.

It comes in 3000 ft rolls so some glass shops are reluctant to bring in the right size to do a small job like a single patio slider.

The finseal comes in many different pile heights. Make sure you get a sample so you can show the glass shop to confirm they have the right size.

You might want to call Schlegel to see who carries the finseal in your area.


Hard to open my patio slider
By James Kim
(Lawrenceville, Ga)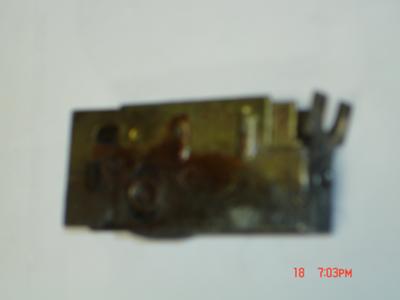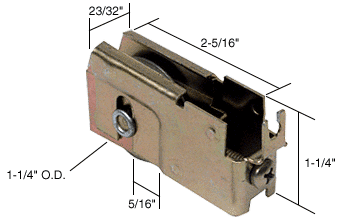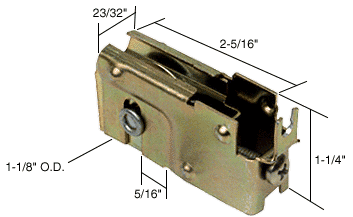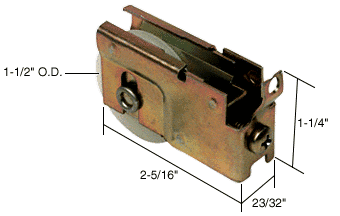 Hi,
my property is being about 11 years old, every time I tried door open it is hard to open because of roller worn out completely.
I need get replacement roller I do not have manufacturer for the doors.
Please help me.

James

Hi James;

Here are a few pictures of rollers that are similar. The picture you sent is a little fuzzy though.

Any way you could take another and email it too me ?

See the email address on the home page of fixingscreens.com


Identifying the patio doors manufacturer
by Jeff
(MN)

I have an older patio slider. While my Truth lock is not working, all those who are attempting to help me, say I need to know who manufactured the door. I have looked very carefully all around and in between the glass for any indications, but have found nothing.

Any suggestions or ideas would be appreciated.

Many patio doors dont have any manufacturers marks on them. Photos of the area by the lock can be really helpful, so please post them if you can.

4 Panel vinyl patio doors
by Jennifer

Question:

I was so happy to come across your website while researching on patio doors. We have an old 4 panel aluminum (at least i think it's aluminum, it's not vinyl) door located in our kitchen that leads to the backyard.

My husband and i have been looking into replace the door along with our kitchen window. I like our patio slider mainly because it has two sliding doors, one being on the outside to keep the snow from falling into the kitchen whenever we open it.

We can also simply remove the other 2 "fixed" panels whenever we have a big move (this is important to us because the previous owner installed a bay window in the front; nice window but it prevents our front door from opening completely since it open onto it).

We're looking into replacing the doors and the window because we want to install something more energy efficient. Also because one of the roller in the slider has been broken for awhile and my husband find replacing the screen material a real hassel (especially difficult to get around the handle)- now it needs replacing again.

However, I have only been able to find 2 panel vinyl patio doors that I do not really care for simply because it's only two panels. The other problem is the other panel being fixed and we need access to a large entrance way for any big move. What would you recommend? Should we just replace our screen slider?

Are aluminum doors any more or less energy efficient? Are vinyl the way to go now?

Answer:

Hi Jennifer, Vinyl patio doors can be custom made so that you have 2 sliding panels that meet in the middle to give you a wide entrance way to move furniture through.

It just depends on finding the right manufacturer who will offer the door configuration you need.

You can also use aluminum patio doors, modern designs use much better thermal breaks and weatherstripping and dont conduct the cold like they used to. Aluminum doors are also more secure than vinyl doors.

How to straighten a
bent window frame
by John
(La Crescenta CA US)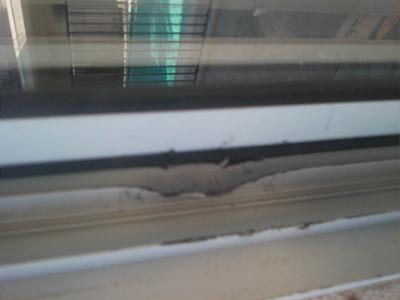 my son was sticking a stick into the frame creating it to bent.. how can u fix this easily?

Get a nice heavy piece of scrap metal that will fit into the space behind the bent metal, then have your son hold it in place while you beat the metal flat with a rubber mallet. Will probably need a coat of spray paint after you are finished.

Big gap between Triple sliding
doors and screen door
by Deborah D.
(Heathrow, FL)

Problem. When you open the patio panel, close the screen slider there is a 3" gap where the weather stripping would be. The standard size that came on the slider is too narrow.

Where can I find 3" white weather stripping for an aluminum screen slider. Door is 8 feet high!

Thank you,

Debbie

Hi Debbie;

Even if you could find a 3" strip of vinyl, it would not hold its shape and so would not seal well in that application.

You need a piece of white aluminum capping bent up to fit the gap, so your existing weather seal could seal against it.

This little job is easy for a window contractor or a siding contractor with a tool called a "Brake". They should be able to custom bend a long strip that will fill the gap.