Sliding Patio Door Handles
Sliding patio door handles Surface mount style

Sliding patio door handles break from time to time.
Replacing them is a job the homeowner can easily do especially using a universal style of handle like a surface mount that is designed to replace many older styles.
Surface mount handles usually have the patio door lock built right into the the interior handle, so all you need to be concerned about is matching the 2 holes already in the door with the holes in the handle or in the worse case drilling a new hole.
The surface mount handle will often cover up existing holes for the old lock. Most wooden, vinyl and aluminum patio doors have room to install a surface mount style lock.
Sometimes aluminum patio doors have narrow vertical stiles and there is not room so check the dimensions as best you can. Happy to help if you contact me
I have arranged these handles in order of type of latching mechanism. The different types are hook over, reverse hook over, tab and hook and double hook.
Personally I like the double hook types as these are the most secure but be sure to use a secondary lock of some kind because in general patio door locks are easily broken into.
Sliding Patio Door Handles - Double hook style

The picture above shows a typical Prime-Line surface mount patio door handle with a double hook style lock built into the inside handle that I get from my Canadian supplier. This lock has a grab handle on the outside as well.
These sliding patio door handles require 2 holes 11/32" diameter going right through the patio door spaced approx. 6-5/8" apart. This spacing is very common for surface mount handles.
(The diagram shows 6.575" but apparently no one told the guy who made the drawing that in the field you cant drill dimensions to 3 decimal places with a regular tape measure and a hand drill !)
On Amazon you will find a lot of handles being made by Prime-Line of California. Prime Line has been the biggest manufacturer of Patio door locks for decades. Like so many companies now they make their handles in China.

One thing you will find on Amazon is many Chinese companies making copies of Prime-Line handles. They generally sell for half the price of Prime-Line and include extra features like keyed locks
The links below show a double latching handle made by Allywasai that has decent customer ratings. This handle comes with a key but you will have to drill an extra hole in your door if you want to use the key. They use a center to center distance of 4-7/8 inches for the handle instead of 6-5/8.
The most common problem you run into fitting handles is the thickness of your patio door and cutting mounting screws the correct length to match. Often the supplier will give you multiple lengths of screws to match your door but I often find you need to trim them to get the handle to fit tight.
Tab & Hook style surface mount handles
The following locks have what I call tab & hook style locks and are made with a 4-15/16" spacing between the bolts. These things are commonly used on old patio doors both aluminum and wood.
Most of these handles with the tab and hook are straight and some have completely flat outside pulls. If for example you have an old steel mortise lock that is broken and impossible to find, you could install one of these surface mount handles.
Like all surface mount locks you need to locate the keeper that the hook latches into on the the inside of the vertical jamb. You often have to trim the casing to allow the keeper to sit flat and you may need to shim it so it lines up exactly with the tab and hook.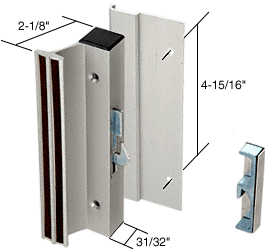 All of the tab and hook style handles I have found on Amazon have been strictly made by Prime-Line.  They are basically available in two colours, Black and Mill finish or aluminum colour.
You can have a solid brown woodgrain stripe or a sort of racing stripe style!
There is also a circular handle style with this lock arrangement. What Prime-Line does is make a few different shapes of handles and offers them with different locking mechanisms to make up their whole product line.
They seem to really love black for this handle style
There are also Bronze (C-1185) and White (C-1203) versions of the above lock but I could not find any listings on Amazon. Sometimes I have stock. Please contact me in case I have one.
Another thing about the tab and hook lock is that you can replace just the tab and hook part without having to replace the whole handle. The lock part number is Prime Line E2077 and those are also still easy to find on Amazon.
All of the tab & hook handles have a very low profile inside and outside handle or pull. This comes in handy when there is very little space between the patio door and the screen door on the outside.
It also helps if your curtains or blinds are close to the door on the inside and you do not want to handle to snag them.
Flat latch style with 4-15/16 spacing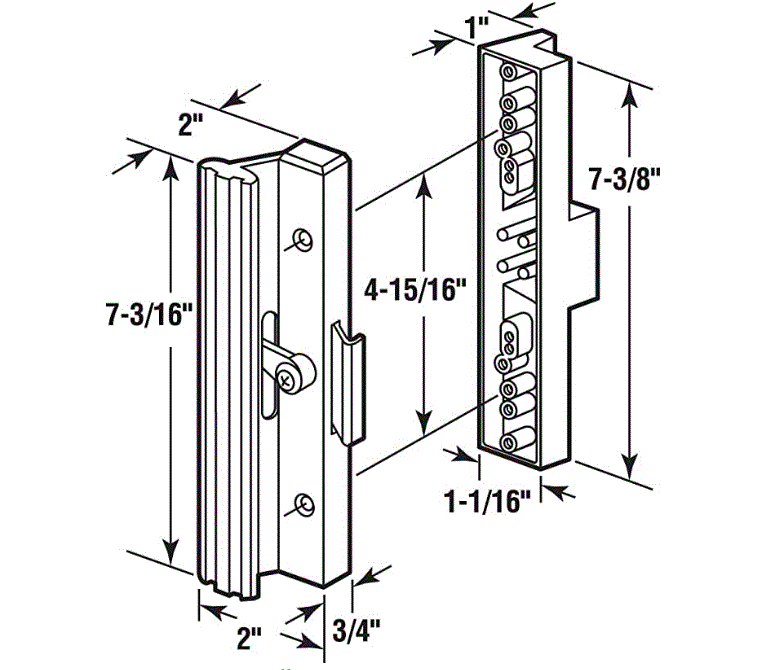 The C1106 has a latch that projects out the side and takes up less space than the hook styles. You need to mount a matching hook plate or keeper on the door jamb so the lock has something to grab onto. 
I could not find a picture of the matching keeper that goes with this lock but pretty much any strong metal bent at a 90 degree angle and matching the shape of the latch should work.
Wooden handle with 4-15/16 spacing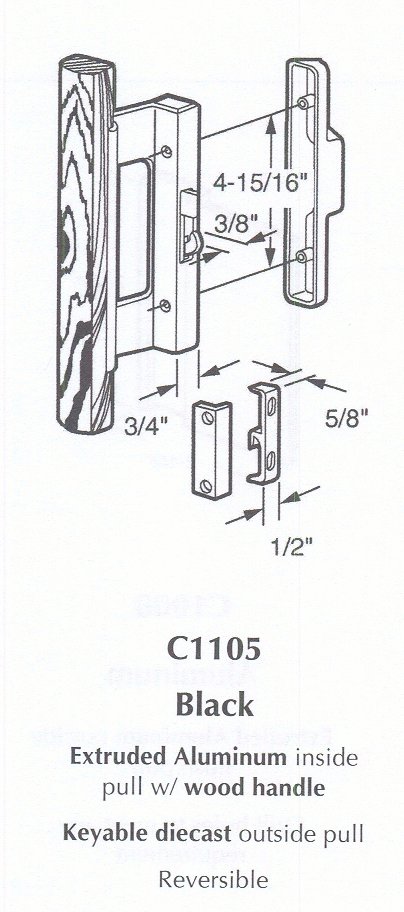 This lock has a thicker wooden handle and uses an anti lift feature. The metal tab, just above the hook sticks out so that when the door is locked, the patio door cannot be lifted up from outside to make the door unlock.
It uses the replaceable E2077 mortise lock so if the lock ever breaks you dont have to replace the entire handle assembly
2-11/16 inch center dimension universal locks
These locks have an even smaller spacing used by a few old patio door manufacturers

The interior handle is made of wood and the exterior pull is a very low profile that allows the screen door to easily slide past.