Sliding door locks
Handles for mortise latches

Sliding door locks are most commonly the steel mortise style. These types of locks typically have handles with mounting screws spaced 3-15/16" apart.
You can use different styles of handles, so long as the handle set uses that screw spacing.
That allows you to substitute a handle that might be easily avaialble in your local hardware store. If you cant find one locally, please let me know I may have some on hand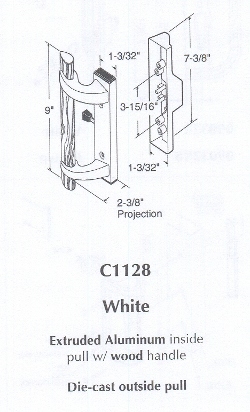 This handle has a white painted housing and a wood pull handle. The thumb lever for the mortise lock works with all types of steel mortise latches.
This handle set comes in 2 colors, all white or all black. The interior handle is not quite as high as the C1128 so it is less likely to get in the way of drapes or blinds.

You are here:
Locks
› More mortise handles