Screen Door Won't Come out
by Mike
(Edgerton, WI)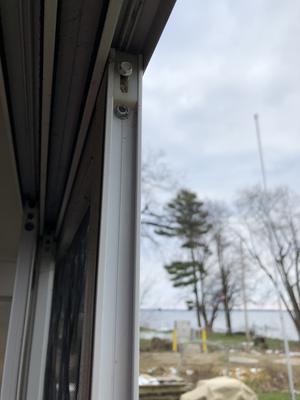 We bought a home with a sunroom that was added on in approximately 2005. It has 8 sliding patio doors with the screens on the outside. We are trying to get the screens off to replace the screening. We have loosened the screws at top and bottom and nothing is working to get these screens out. There is a tag on the glass patio door that says:KC Certified Car #1342-101; Model 6SG1 aluminum sliding glass door.

Hi Mike;
Thanks for the great pictures. From what I can tell the first pictures shows the frame touching the top of the screen door, and the picture of the bottom of the door shows it as low as it goes.

Whats happening is either the wood frame that supports the patio doors or the base they sit on is warped and pushing on the patio door frame. There should be a big enough gap to lift the screen door out.

To get these out I would first check for a removeable bottom track held down by screws. If not then I use a hydraulic jack with a 2x4 between the tracks to lift the frame up at the top just enough to get the screen door out.

If its a sunroom there should not be much load above the doors so the top track should move enough. That makes me think it might be the foundation that has heaved up from the bottom.