Screen door is falling off top track
by Cindy
(Centennial, CO)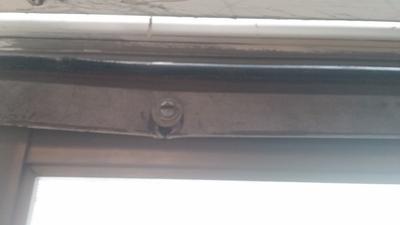 Hi,


It seems like the same issue others have, but I am hoping you can tell me exactly which parts would work best. I have uploaded a few pictures.

Hi Cindy;

Thanks for the pictures.

It looks like this door is a top hung style door with rollers mounted on the back of the screen door.

There is a rail mounted on the top of the patio door with a track for the rollers to roll in.

There are different kinds of rollers you can mount on a top hung screen door which will work.

Usually they are 1 inch diameter metal or nylon rollers with a ball bearing in the center. You can get them with different kinds of brackets for mounting to the screen door.

You can also get the rollers plain so you can mount them right on the door with a machine screw and nut.

I posted a picture of one style of roller and I have plain bearing rollers if you need them

Its still a little unclear what the actual track looks like on your door. If you could take the screen door off and send me a picture of the track taken from the outside that would be great.
Join in and write your own page! It's easy to do. How? Simply click here to return to Screen Door Track Questions.