Replacement for 1960 patio door lock
by Tom H
(Buffalo, NY, USA)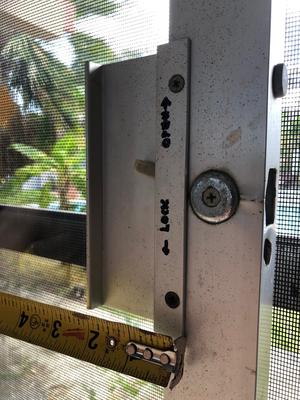 Old 1960's Acorn style patio door lock
I am trying to find replacement thumb latch & cylinder lock mechanism because the latch
hook is broken. These are aluminum sliding doors for a home built in 1960.

The alum door is approx 1 1/8" thick. The cylinder hole in the door is 3/4" diameter, and the outside of the cylinder trim is approx 7/8" diameter. The cylinder uses a key on the outside and a thumb latch on the inside of the door. The door pull handle is approx 2"w x 5 1/4"h. The L-shaped latch catch on the door jamb is approx 5/8"w x 1 1/4""h.

Hi Tom;

The closest thing I can find would be Prime Line C 1241 here:



This lock is intended for 1" thick doors but will work for 1-1/8". You will have to drill 2 new new holes for the handle. You could probably just leave the existing interior handle in place. There is a C-1242 lock that is grey color which would match your door better but it does not come with the keylock. Plus Amazon does not carry it as far as I can see.
Join in and write your own page! It's easy to do. How? Simply click here to return to Patio Door Locks.