Pella Screen Door Replacement...At a dead end
by John
(Amherst NH)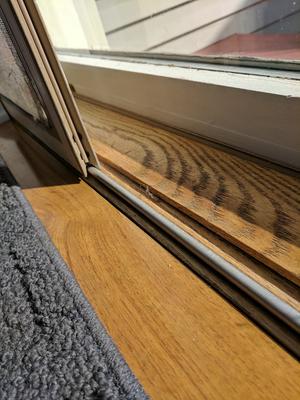 Picture of the door I have on the track
I purchased a house a year ago that has two Pella sliding glass doors mounted as pocket doors (strange but cool way to install them). One of them is missing the screen door. I contacted Pella but was told they do not make that screen door anymore and the only way to replace it is by cutting the old track out...that sounds insane.

The screen door measures 35x78 and is mounted internally. The screen door is also 3/4" deep. It rides on a large circular (3/8" in diameter) guide on the bottom (same guide as the main slider) and there is only in a c-channel on top (pictures of the door I have attached).

Im looking to buy/build a replacement for the Pella screen door thats missing. Since the track is odd sized Im wondering if I could use a normal screen door and replace the bottom rollers to some that could accommodate the track.


Please help,

Thanks

John

Hi John;

Thanks for the great pictures

The key to getting a screen door to fit here is the width of the opening from the edge of the pocket to the jamb on the right side (looking at the "Whole Door" picture)

That opening must be wider than the screen door itself, so that there is room to get the screen door on and off.If it is you should be able to put one of my screen door kits on.

You have a channel on the top, which will be fine. Pella screen doors use a gigantic long spring as a door closer and you may be be able to reuse this but its possible the gap at the top of my door will be too narrow for it.

On the bottom Pella uses a track thats a bit wider than most screen door tracks. Their rollers usually have a tab that wraps underneath the track. To get their door off you have to align the door with half moon shaped cutouts in the lower track.

It looks like they covered up the left hand cutout when they made the pocket door which would have made the door next to impossible to remove without damaging it.

My door has rollers that just ride on the track so the cutouts are no longer needed. If your height dimension is 78 inches from top of top track to top of bottom rail then a 77-3/4 inch tall door should work.

The kit door is narrow where the door fits into the track and wider in the area where the screen is installed so Im wondering if its too wide to pass through the gap into the pocket ? Need the dimension from the back of the top rail to the pocket opening. Hopefully its more than 3/4 inch.