Acorn patio door lock
 Acorn is a company that made sliding patio doors in the 1960's. Their patio door lock is a very simple one piece style where the lock and the inside handle are all in one. They are typically held on by 2 long screws spaced 3-1/2 inches apart on center. 
The 2 long screws go right through the patio door from the inside to secure the outside handle. The patio door has a single 3/4 inch hole drilled in the face of the stile where the keeper can enter when the door is closed.
The keeper can be 2 different types. The older original version is mounted on the door jamb and looks very much like a bolt sticking out almost an inch. There were also two rubber bumpers above and below to keep the door from slamming shut too hard.
A newer version is also mounted on the door jamb but it looks a hook and is very similar to dozens of other manufacturers keepers. The newer keeper can be mounted with the hook down or the hook up, makes no difference.
If you are handy with a drill and a vise you can also bend up your own keeper from some scrap piece of thin metal bar.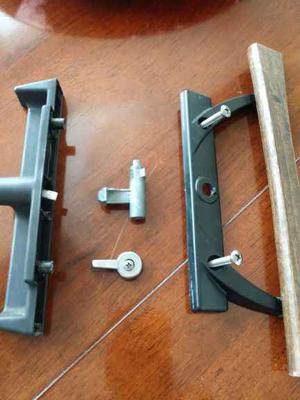 Parts for old Acorn doors are getting harder and harder to find.
You can convert an Acorn door to a more modern mortise lock but you will need to replace the inside and outside handle and cut the shape for the new E2014 mortise lock into the edge of the patio door. 
As well, the handles will need a new hold drilled since they will have different hole centers
Security on these old locks is not too good. 
Acorn patio door lock handle sets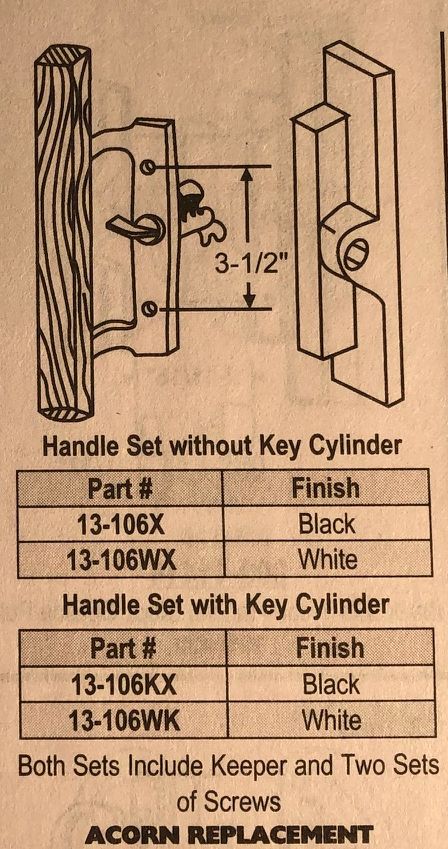 Questions about Acorn doors
I need to re-key or replace 4 1960 era locks / handle devices. Photo's are shown below. They have held up remarkably well but have now reached the end of their life.
It is a long shot I know, but do you have these available or some version like them ?  Two devices lock into a fixed jamb and two are on a pair of doors that lock at the meeting style.
A thumb piece in the middle of the interior handle paralleling the glass operates the lock when on the inside.
I can get any other additional information that you may require or even remove and send a device to you to look at.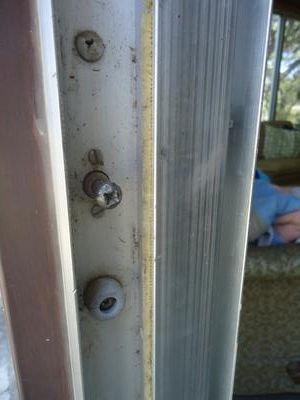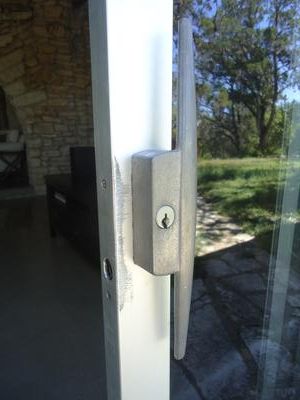 I have posted replacement handle set pictures on this page. It is also possible to replace the lock cylinders if the handles are still in good condition. Would need would need diameter and length for the lock cylinder and a picture to make sure it has the same actuating pin as mine do