Need replacement patio door handle
by Mike Mazzola
(Cary, NC)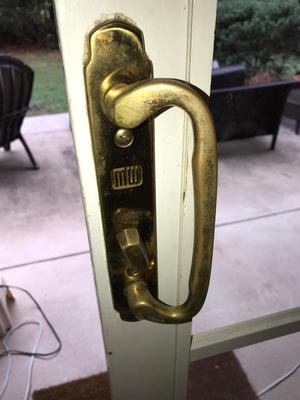 Hi, hope you can help. The inside handle of an MW patio door locking handle broke at the inside locking latch mechanism. The door handle is from about 1996.

I have included pics of the inside, which is broke, and the outside which is ok.

Would you happen to have an inside replacement handle with the locking latch attached to it? If, so can you tell me what model and the price and how long to deliver it to NC? Thanks! Mike

Hi Mike;

Any chance you can measure the distance between the two screws that hold the inside handle on ?

Does it look like 3-15/16 inches center to center ?

What happens when you turn the thumbwheel, does the latch just stay inside the door.

My contact information is at the bottom of the home page at www.fixingscreens.com if you need to speak to me about this.