Mortise Lock Slot Position
by Tom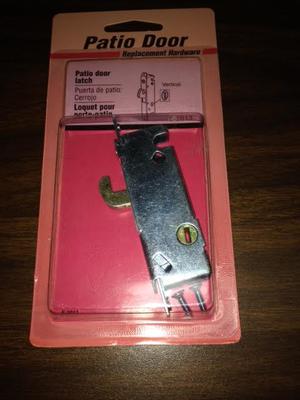 E2013 Mortise Lock
Hi,

I too have a patio door that needs a mortise lock. I've read your explanations about the E-2013 and E-2014. My problem is that the spring inside the lock is broken and I am not sure about the correct position of the slot be it vertical or 45 degrees. Can you help.

When the latch is down and extended out the slot is in the vertical position. Can I buy the lock from you directly? I have not seen the E-2013 or E-2014 part numbers anywhere else.

My door was bought from Home Depot about 10 years ago under the name American Craftsman 5500 series.

Neither Home Depot nor Anderson Windows and Doors were helpful. The lock looks like and has the dims that the above mentioned locks have.

Thank you, Tom

Hi Tom;

I uploaded pictures of 2 new locks so you can see the difference in the position of the slot for the thumb latch.

Will send you a PayPal invoice in case you are unable to find one of these locally. Just let me know which one you need.
Join in and write your own page! It's easy to do. How? Simply click here to return to Patio Door Locks.