Metal spine replacement with vinyl?
by Doug B
(Elmira, NY)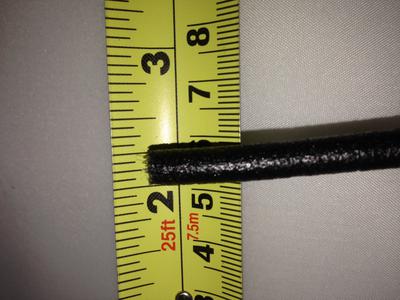 0.250 or 1/4 inch diameter window screen spline
I want to replace the screen in Anderson windows, but they use a metal u shaped spline. These windows were purchased in the mid 1988's. I will replace the metal screen with fiberglass and would like to use a large vinyl spleen instead of the metal which is often ruined during removal. Do you have a spline size for this? Or do you sell the aluminumspline? Thanks,
Doug

Hi Doug

I have many different sizes of round polyfoam spline that can be used to replace aluminum U channels. Usually the aluminum channel is 1/4 inch wide and so 1/4 round polyfoam can be used to replace it.

I have 0.270 diameter which is a little larger than 1/4 inch, sometimes this is needed to hold the cloth in tightly.

You can find all of these splines on the materials drop down menu on my home page at fixingscreens.com, just click the dropdown and look for the spline page.
Join in and write your own page! It's easy to do. How? Simply click here to return to Screen Spline.