Help needed in deciding
by Regina
(Mooresville, NC )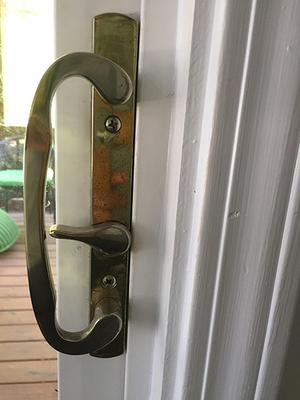 inside
Hello! I need to replace our old and ugly patio door handles. I found the
prime line C 1289 - Designer patio door handle, mortise style, 3-15/16" HC, keyed
The 3-15/16" center hole spacing seems to be correct, also that it is hooked. I'have attached pictures of all the components. Does it look to you as if it would be a fitting replacement or what else do I need to be aware of? I am a complete newbie to door hardware and just started to change out all interior handles. Now this ugly thing sticks out even more.

Thank you in advance!
Join in and write your own page! It's easy to do. How? Simply click here to return to Patio Door Locks.