Garage Screen Door
The garage screen door has turns your entire car storage into a screened-in porch. It is simple to install and can be removed when not in use. This is a great benefit in cold climates where the winter weather can quickly ruin a traditional screened porch.
These types of screens are also great for cottages for the same reason. They can be removed and stored away and reinstalled when the warm weather returns

Garage screens come in two different styles. "Florida" screens rely on a velcro strip that is attached in front of the garage door and around the frame. This strip remains in place and does not interfere with the operation of the existing door. 

To install the screens, the garage door is fully opened and the screen is hung from the velcro strip all around the opening. It takes only a few minutes to completely hang. 

A long piece of plastic conduit slipped into the bottom keeps the cloth smooth and tight. Simple flap doors allow people to pass through the while still keeping the bugs out.

Other styles of are designed to be retractable like a huge window blind. A roller is installed just above the existing garage door, and the cloth drops down between the tracks and the inside wall. These can even be motorized. At this point the screens are becoming almost as expensive as the garage door itself.

These types of screens are best installed by a professional garage door installer, because they use the same torsion spring mechanism your garage door uses and these springs can be dangerous if you have never installed them before.

The cloth can even be custom printed with the stars and stripes, marine corps emblems as a great way to show your patriotism. Sure beats having to paint. 

Your former car storage becomes a new barbecue area, a porch to relax on or a safe play area for your children. The screens also allow the area to be used late into the night without fear of mosquitoes interfering with painting, staining or hobby projects.
The following is a question from a website visitor asking me about an experience she had with garage screens:
I recently recieved a quote from a representative in California to put motorized screens for the garage for about $4000.00 USD
Earlier there was a gentleman by the name of Douglas who left his contact number (which seemed to be in Florida and also I cannot find now in order to contact him) who had posted about a motorized doors installed for $1412.00 USD
Is it only because I am located in California? Anybody out there with any similar occurances in California? Thank you.
Hi
$1412.00 might be correct to supply motorized screens for a single garage. But not to install it.These screens are not complicated to install. The most important thing is getting the size correct.
Installation should only require a couple of hours. Perhaps you dont have an electrical outlet near the screen location, and the guy priced for an electrician to put one in. Would need to see whats included in that $4000 price to make it so high.
To get comparison quotes you first need the height and width of the opening and the material you want to use. Some have regular material, others use Solar cloth which is much thicker and more expensive.

Motorized Doors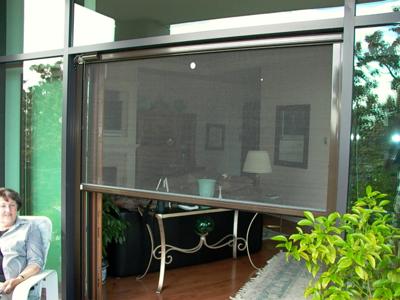 I am interested in purchasing motorized screens. Do you produce such a kit?
The garage door is 18 feet wide and 7 feet wide.
I am anxious to hear from you.
Warm regards, Deb
I could put you in touch with the company that produces them. Price for a 18 foot x 7 foot would be $1412.00. There are also add ons such as remote control and motion sensors if you require them.

Garage Screen Rollers
by Charles H.
Palm Coast, Fl, USA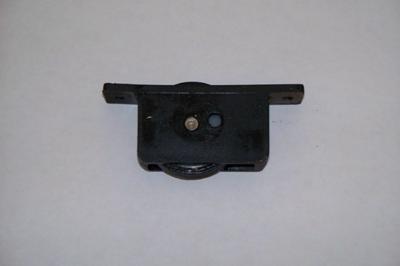 I have a single door 2 car garage with a 4 panel slider doors. I'm looking for replacement rollers for these doors. Can you help? I tried reformatting a picture of the roller but could not get it to the right format. give me your e-mail & I'll try sending it to you that way.
Hi Charles;
Try contacting Discount Do-It-Yourself Aluminum 407-695-2555 at 1461 Seminola Blvd. Casselberry, Florida 32707. They appear to be the manufacturer of this roller.