Exterior French Patio Doors
Exterior french patio doors

Exterior french patio doors have become more popular than sliding patio doors perhaps because they offer more security, better insulation and are perceived to be more stylish. Sliding door manufacturers are even mimicking the look of the french door in their sliding panel models.

Single French Door
Most exterior french patio doors come with two panels, but in some models only one panel is an operating door. The other panel looks like it opens, but its actually fixed in position. 
With a single operating panel, the french door is less expensive and much easier to fit a sliding screen if yours came without one.

If you do have to fit a slider on a single french door, the only things you need to do is install a track on the bottom sill all the way across, and a track all the way across on the top header. The screen will seal on the astragal, or the vertical column in between the two french door panels. 

You may need a wide vinyl bug strip if the astragal does not stick out enough. You also have to pay attention to the handles. Sometimes they stick out so far that they bump into the screen.

Double French Door
Double french doors have two panels that open and close so that the whole opening is available for entry or exit or just for the view. Usually one of the opening panels is held closed most of the time by slide bolts, one at the bottom sill and another at the top header.
These panels present problems if you need a sliding screen because you need two sliding screens on two separate tracks.

Probably the best solution is the retractable screen for these types since the retractable can be completely out of the way when fully open, and be operating as a screendoor when one panel is closed and the other used for entry and exit. 

You still have to pay attention to the sizes of handles and locks though. As these may interfere with the retractable as well.

by MAC
(Chicago)
I have a new french door installed which came with screens that open just like a set of french doors just opening in the opposite way.
Either I lost the hardware or it never came with it and I am trying to install a handle and lock mechanism which will work with both panels. Do you have any information on where to obtain such handles ?

Can a french door have
only one screen ?
by Caroline
(Ruckersville, Virginia)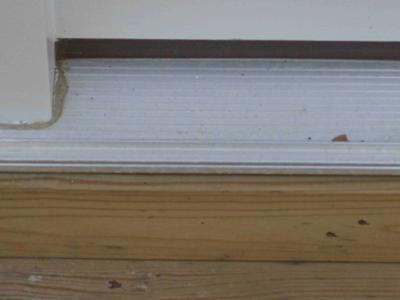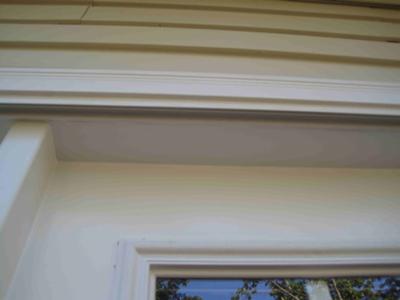 Hello,
We recently moved into a newly built home, which has a French patio door. We would like to put a screen on, but were told by our local home improvement store (Lowe's) that because there is only a single track versus a double track that it would not work, and that we would have to tear our the door to put in the correct type of track.
Do you have any suggestions as to how we could make some modifications so that we do not have to tear out everything, or for a screen that will work? Thanks!
Hi Caroline;
Thanks for the great pictures !
French Doors are often made with a single sliding screen. Yours had one but most likely it got broken and was thrown out.
At the top you either have a channel or a thin rail that the rollers ride on. If its a channel, measure from the highest point. If its a rail, measure from the lowest part of the rail.
Measure down to the top of the bottom rail. If you have a channel at the top, subtract 1/4" from this height. If you have a rail at the top, add 1/4" to the height measurement.
The width of the slider is from the back of the vertical post or astragal over to the vertical jamb.
In your door the screen door slides right over top of the astragal so it should have no problem sealing out the bugs.
The cost is $129.00 which includes delivery to Virginia, frame, screen cloth, spline, latch, steel ball bearing rollers and screen installation tool.
Delivery 2 weeks
French door sliding screen conversion kit
by John M.
(Phoenix, az.)
Wanting to add sliding screen doors, currently have french doors that open inward. I need a door kit that would fit an opening of 71-1/2 inches wide and 79 inches Tall. Need to know if a kit is available and what price?
French door makes popping noises
by Sue N
I have french doors in my bedroom that go out to the lanai. They "pop" both day and night when the AC goes off and on, when someone opens a door somewhere else in the house, when the sun shines on them, and sometimes for no reason that I can determine.
I can ignore it during the day but the popping wakes me up at night. Do you have any idea how to fix ??? I am becoming sleep deprived !!!
Hi Sue;
The most common problem I find with many french doors is that the wooden astragal or stop in the center of the door gets loose and prevents the door from closing tightly.
The slightest wind can then move the doors against the stop and make them click and pop.
With luck the problem is as simple as pushing the astragal back to its original position then adding a screw to keep it from moving again.
Hope this helps

Outward opening french doors
by Adam
(San Diego, CA USA)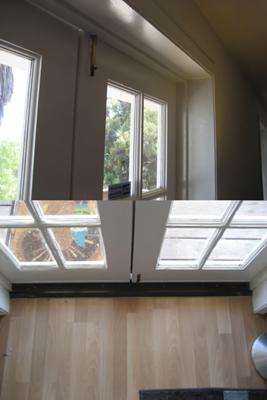 Top and bottom view. Note the door handle sticks out in the center. I have more pictures!

The entrance to my home are french doors that open outward onto a deck. The dilemma I have is that I need more ventilation in the room that the doors enter to as there are no windows.
The complicating factor is that I have cats that cannot be outside, so a retractable screen would not be an option as the cats could easily duck under or to the side to exit. I need something more rigid.

Note that there is no track on the bottom.

Perhaps you could make a recommendation?

See the attached picture.

Any advise would be much appreciated!!!

Dual french sliding screen
doors with Astragal
by Mitchell F
(NJ, USA)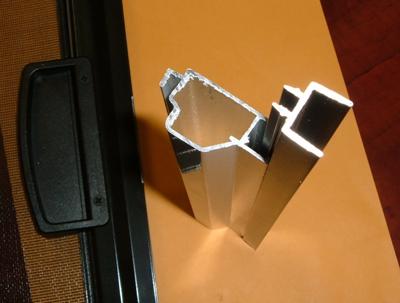 Astragal used to join 2 screen doors

Hello I am a screen repair company who has a customer who is looking to replace their slider for their french or double doors (not sure which is which)

Anyway the glass doors connect in the middle and swing inward. The sliders, there are two of them, connect and lock in the middle and they both slide to their respective side.

These are big doors too, something like 34" wide by 92" tall. But meanwhile i cant seem to find a replacement door suitable for this application.

We buy much of our supplies from a company here called CR Laurence, i am sure you have heard of it. Anyway we usually buy the doors that are "knocked down" already and then custom size them and put them together.

However these doors just have a regular lock? How would the 2 screen doors lock together in the middle? is there a different handle that i can put on the doors from CRL to make them be able to lock together in the middle?

Hi Mitchell,
I do sell slider kits with an astragal in the middle that allows you to mount a lock. These are for applications where the 2 sliders share the same track and just get pushed to each side when opening.

The sliders can be cut to 92" tall. They are also much stronger than the CRL knock down kits. Give me a call at 1-866-904-2383 if you want to discuss this further
French Door slider track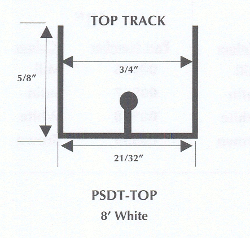 Top track for sliding screen door

I HAVE A FRENCH DOOR WITH A SCREEN. PROBLEM IS THE OLD PLASTIC TRACK IT RUNS ON IS BROKEN. CAN I PURCHASE SOMETHING THAT THE TRACK WILL GLIDE IN?

I have replacement tracks, let me know if one of these screen tracks looks right.


Screen Door for French Door that opens in

by Rob B.

Greetings,

French Doors that open in.
The opening measures 72"wide and 78 1/2" tall.

There are no tracks there so would need them also.

I would like to put in 2-36" sliders, bronze in color.

The heavier Canadian style would be preferred.

There is the possibility, once one set is in and passes their inspection, to install up to 48(pairs)more sliders.

Quality, appearance and functional ease are important.

Again I would need the tacking for these doors.


Thank You for your time,

Robert
Have A Great Story About This Topic?
Do you have a great story about this? Share it!
What Other Visitors Have Said
Click below to see contributions from other visitors to this page...