Dog and Cat proof
your screen doors - Q&A

Have you had to dog and cat proof your screen doors ? Its tricky when you have pets especially large dogs that like to go charging through the screen. Some pets however are really good with pet doors . What follows are questions and answers about pet protecting your screen

Dog Doors in Brampton, Ontario
by Cherie M
(Brampton, Ontario)
Hello,

I live in Brampton Ontario and I am looking for a company to quote and install a dog door, I have sliding glass doors that lead to the backyard, Please help I can't seem to find any companies that do this.


Try contacting Frank Hill at Hi-Lon Glass, 16 Bram Ct in Brampton, (905) 451-9938

He used to install dog doors in sliding screen doors, dont know if he still is.

If that is not helpful, please let me know about what you need. There are a number of different products available
The pet door shown in the above Amazon link is made by a company in China called Namsan. Its a pretty good product and works well with small dogs and cats that weigh less than 15 pounds.
It is designed to be installed in the lower left or lower right corner of a regular screen door. The frame screws together and is a simple installation job for the do-it-yourselfer.
The reason I dont reccomend any screen mounted pet door for pets larger than 15 pounds is that if the dog takes a run at the door, they will rip the frame right out of the screen just from their own weight.
Pet screen sags
by Mark
(Toronto, Canada)
Pet Screen Fabulous, but the Door, not so much
by Laura
(Norwalk, CA)
So my question is not so much the screen, we purchased the pet screen, fabulous, it holds up to our 55 lb husky, he bounced right off, we were so happy! But now, he's figured out, that with enough force, he can just knock the screen door right off it's frame, so though the door or screen isn't damaged, he's still able to get into the house through sheer force.

Are there any frame structure recommendations to be able to keep the dog out, while being able to use a pet screened door to allow for air circulation. We have been stuck keeping the glass sliding door in place for almost two years now, and I feel like the house has gotten unbearably stuffy, I'm not a fan of turning on the AC. I would love a patio screen sliding door that can hold up to a large dog attempting to barrel through and not have it pop right off. It's always chaotic when he succeeds in getting into the house and getting the screen door popped back into place.
English Bulldog went through the screen
by Richard S.
Question:
I'm attempting to replace the screen on my patio door with the heavier pet screen as my granddaughter's english bulldog ran thru it.

When I removed the old screen I noticed the top corners want to come apart. Is that normal or is it something that can be repaired. The bracket that slides into the frame is not tight. The heavier weight screen is not easy to work with.

Appreciate any suggestions.


Answer:
Thanks for the question.

The petscreen is a good idea but you need to fix that frame before you put it in.

You can buy new corners, often from your local glass shop and sometimes at Loews and Home Depot.

Sometimes though, the new corners will still be loose because the frame is worn. The screen cloth will hold the frame tight for a little while but eventually it will become loose again.

You might want to consider getting a good new strong screen door to replace it

Hope this helps
Half screen Half plexiglass
by Jim W
(Cherry Hill, NJ)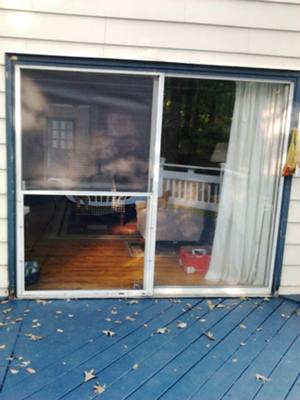 Plexiglass door protector
I am trying to find a sliding door that is half screen(on top) and half plexiglass (on bottom). My patio door is 8 ft wide.

Hi Jim;

The reason these are not made is that plexiglass is heavy, especially with a 48 inch door. The door rollers just wont be able to support the weight for very long.

The plexiglass also needs to be about 1/4" thick to be strong enough to stand up to pets, that also adds to the weight.

Petscreen is an easier way to pet proof a screen door.
Cat keeps destroying our screens

I am looking for a product that will help us with our cat. Our cat often scratches at the mesh in our sliding glass doors causing tears and rips. What do you suggest? Thank you.

You could install Petscreen petproof screen wire, - its very good with cats and dogs because its strong enough to resist scratching.
Sliding screen door - reinforcement panel
Hi - I have two screened doors. One of them has a feature I like a great deal. I am getting ready to re-do the mesh on the other one, and am hoping you have a source for the feature I am about to describe.

The feature I like:
I have a sliding door with standard mesh, but the door has an additional "reinforcement panel" secured onto the outside of the bottom half of the door using four screws.

The reinforcing panel has a "mesh" that is a much harder material than mesh, possibly quite thick aluminum or similar. It is in no way a security panel, but because it is sturdy and covers the bottom of the main door, it provides some discouragement to the local small critters we sometimes see in the neighborhood. It would also allow a small dog door to be installed.

The "mesh holes" on the reinforcement panel are about 1" high and about a half inch wide. They are not rectangular, but instead are actually a hexagonal shape.

Since this additional panel is affixed to the outside of the mesh, it doesn't matter that the holes are so big because the existing mesh underlying it does the job of screening out the insects. But because of the larger holes in the reinforcement panel, it also does not block air flow as a smaller mesh would, which is very important where we live.

Have you ever seen anything like this and do you have a recommendation about how to find such a thing? I can send a photo if that would help.


Thanks!
Dual retractable mesh doors and kittens
by Michelle
(Baltimore)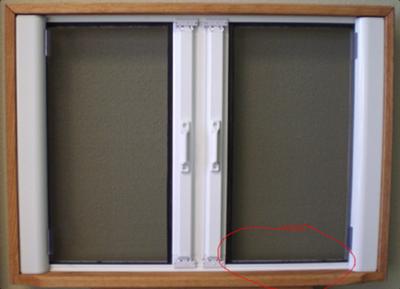 We have a retractable rolling screen french door. Looks like below. We recently got a kitten and I want to be able to use the door without worrying about him making it through the screen.
Its not a hole per se - but the bottom of the door is not secure in the roller or whatever grabs it down there. Is it just time to replace that roller or can I repair the cloth, meaning can I make the grip on the bottom of the mesh sturdier to the frame?
I have circled the spot in the picture below where there is space due to the poor connection.

Hi Michelle;

The bottom of a retractable door is meant to pop out of the track if a pet runs into it. That way they just go right through instead of damaging the cloth. Not good for keeping pets inside though.

More than likely, your cat will get accustomed to pushing out through the bottom of the mesh. While the door is still ok, you might want to get a spare roller and screen from the original manufacturer in case you need to replace it in the future.

Either that or put a pet gate in front of the door to keep the cat away from the sreening.
Make my own Petscreen door ?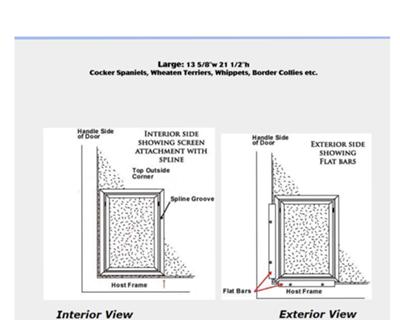 How much would it cost for the parts minus the material to make this??
NOTHING STOPPED FEAR!
MY DOG COULD PROBABLY GO THROUGH FORT KNOX...WHAT CAN I PUT UP TO MAKE HER STOP DESTROYING MY SCREEN?? WE NEED TO START KEEPING THE PATIO DOOR OPEN NOW THAT IT IS GETTING HOT IN LAS VEGAS!


I've heard of a German Shepherd that went right through the living room window chasing after a squirrel. The window was trashed and needed $3000 to replace it, the dog was fine.

You can buy super strong doors with the mesh strongly attached to frame, but if the screen doesnt break, something else attached to it will !

You could buy one of those curtains that hang from the top so at least when the dog takes off he just pushes it aside. They are cheap enough that if the dog destroys it you could have a spare one ready to hang back up again.
Need screens for the worlds strongest cat
by June
(Aguanga, CA, USA)
I have a very smart cat that should have been called Houdini as he keeps finding new ways to escape. Since he was destroying my screens one by one I finally re-screened them all with pet-resistant fabric.

Now he has figured out that if he throws enough of his body weight against the mesh (usually by wedging himself between the mesh and the other side of the sliding window) he can deflect or bend the frame enough to wiggle out the side of the frame.

The standard clips I found at the hardware store are useless as he can easily flex the frame past the clip.

I suppose I could use hook and eye latches but the aesthetics of that aren't particularly appealing. Somewhere I found some clips once that I installed on the mesh door of my motorhome that work sort of like a hook and eye but are flat and made of brass (sort of a hook and peg).


I think these would also work on windows but have no idea where to get some more (or exactly what their right name is). Do you? Or do you have any other ideas? These a are big screens (~40"x50") so they have a lot of flex potential.


Firstly, you should make a YouTube video of this cat, he belongs on America's Got Talent !

I've seen the brass latches you describe. Lee Valley Tools or any hardware supplier specializing in woodworking tools and cabinet latches should carry them.

You could also have divider bars put across the frame to strengthen it and stop the side bars from bending.
Dog scratching the mesh all the time
Do you have mesh door guards to protect my screen from getting ripped up by my dog scratching it?


thanks

Petscreen is the easiest fix for pet scratching to get in and out on a screen door.

Its 7 times stronger than regular screen and wont rip the way regular fiberglass screen will.

If the dog goes charging through it, it can still be pushed out of the frame. But its usually simple enough to roll the material back in even if it does get pushed out
dog owner
by Pat
(Salem, OH)
Question:
My boxer pushes through my mesh door and gets out. My lab mix scratches the mesh and puts holes in it.

I need the mesh to keep out bugs, and our city has a leash law, so letting the dog run loose is not only dangerous, but a crime.

The pet mesh may resist holes from claws, but how do you prevent 65 lbs of pressure? Pet mesh that screw into the frame are not designed for the ridges on the screen door, so that won't help.

Can anyone help?


Answer:
Thanks for the question.

Regular mesh doors are made to keep bugs out not dogs in, and theres only so far you can go even with petscreen.

Theres a fellow in California who is selling the "Ultimate Screen Door" on Ebay for about $500.00

It uses petscreen but also secures the petscreen with metal instead of plastic spline. Its a really strong screen, but if Fido goes barelling into it at 60 mph I am not sure if it would stay in the frame.

Hope this helps
Sliding Screen dog door for 2 dogs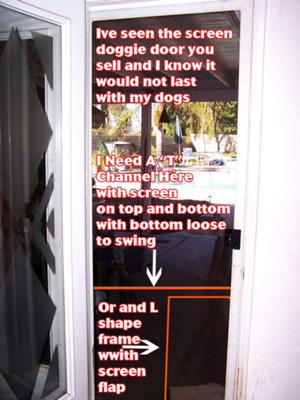 I have replaced the mesh twice and the second time right after I replaced it the dogs ran through and ripped the bottom half up aprox 2 feet from the bottom so I just made it a flap and hot glued washers to both sides so it would keep the bugs out.

Now it really needs replacing and I would like some sort of "T" frame peice (With channels on both sides for the rubber seal) I can pop rivit to the existing frame about 2 feet from the bottom and have the bottom flap again or maybe even an "T"channel in an L shape to make my own doggie door??? See above picture..Thanx
Home owner asks about dog being able to see medh
by Jeanne
(Mission Viejo, CA)
My Westie (dog) cannot always tell when the sliding mesh patio door is open or not! She has "bonked" into it a couple of times and fortunately did not break it. Is there a bar or something we can attach to the door so she can tell if it is open or closed? We sould like it to be somewhat attractive!
I have snap on plastic butterflies that are intended to cover small holes, but would work as a visual aid as well