Can you find a replacement patio door roller?
by Mike O'D
(Crawfordsville,In.)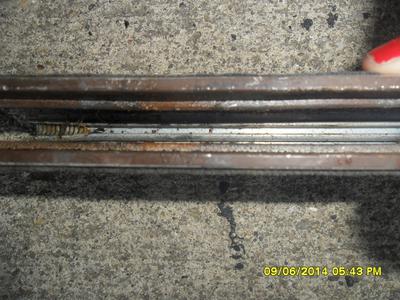 The attached pictures will tell the story. These rollers came off a sliding glass patio door. They were corroded and froze solid. It appears the original mounting method was a bolt/rivet type attachment.

I had to use a chisel and punch and a little prying to get these out. The roller itself had a rubber/plastic? wrap around to the metal wheel part. As you can see from the pics they are dry-rotted and cracking and have lost all their elasticity.

I do not know the manufacturer but I estimate it was installed into this house about the late 70's early 80's. Can you help?


Hi Mike;

I have a page which lists all the common bearings I can get. Most of these are all steel construction. There is no reason you cant replace a roller that had a Nylon wheel with one which has a steel wheel.

The bearings are shown all the way at the bottom of the page listed below

https://www.fixingscreens.com/patio_door_roller.html

The pivot pins or axles are often solid steel but I like to replace them with 1/4 inch diameter spring pins because they are easy to find at Home Depot or Lowes and the spring pins can be easily hackwsawed to any length needed.

Most of the time you can find the exact length right in the store



Join in and write your own page! It's easy to do. How? Simply click here to return to Sliding Door Rollers.