Rv entry screen door center handle slide screen frame

My kids through away the horizontal aluminum screen track with slides that hold screen latch access door slider ,after it got knocked out.So far i was going to cut a slot in edge of extruded 5/16"x 7/8" screen frame. I have spent a ton of time looking for the exact material. I'm very surprised I haven't been able to find the exact materials to repair or build a new screen door for a camper.There are every other aluminum gutter & outer trim part available,even parts to campers made in the 40s & 50s.
I am also looking for the rv screen frame rails that the slide mounts on. They have two grooves on one side for attaching screen in both directions and a vertical slot on the other side that serves as the slide track. If you find a source let me know.

Thanks



RV or mobile home screen door

by Geno
(Rhode Island)

I have a forty foot camper/trailer. It has a sliding glass door that did not come with the screen door. The whole unit appears to be smaller in both height and width than standard house door units.

As I am disabled and on a fixed income I cannot afford to pay a serviceman to come and custom make a new sliding screen door.

What options do I have? I have searched out the trailer manufacturer for info, to no avail. There must be a simple, inexpensive solution that I can employ to allow the fresh outdoors air in while keeping nature's critters out and mine in.

Any creative folks out there?

Sincerely,
GRM

My screen door replacement kit can be made to fit any size of patio door, it doesnt matter if its on a house, RV, boat or mobile home.

Check out the link above and call me if you need help measuring. Kit cost is $129.00 including shipping so long as you are able to assemble yourself.



Screen door kits for travel trailers, RV's and boats

I am looking for information on replacing a screen door on my fathers travel trailer. The manufacturer has a door they can ship, but the price is way out of line.

The door size is 29.5 w / 75 h.

My question is do the door for travel trailers have any special considerations? It seems everything on those things is an odd size, weird hardware etc.

Would your kits be compatible with travel trailer sliding doors??

Thanks much!

Screen door for RV's, travel trailers and boats are usually custom made for the RV industry by the same companies who make residential windows.

The only difference is that they are a little shorter than your average
house patio screen door.

I have supplied my screen door kits for mobile homes and RV's, so long as the measurements are OK, the door will fit and operate fine.

Need new handle for
Patio Door on our RV
by Jeanette
(Traveling, now in Colorado)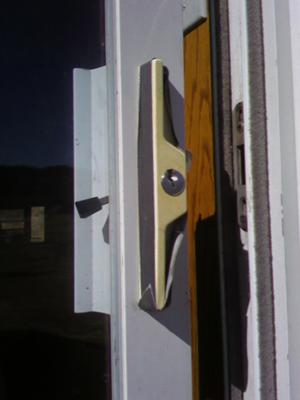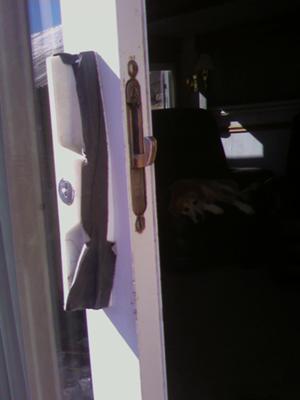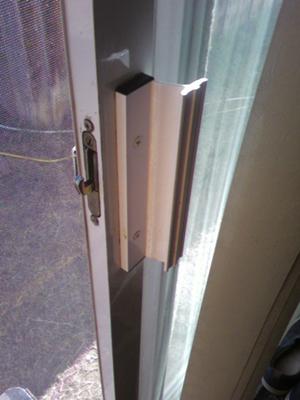 We have a patio door on our RV. Some time ago, the exterior part of the handle began to crack. We "temporarily" mended it with duct tape. Now the lock has gone completely and it needs to be completely replaced. The big difference in this handle from a house model is that the distance between the screw points is 4" instead of the usual 6+". I'm attaching pix and would appreciate any assistance you can offer in getting a replacement. Please ignore the black tape and wood door frame, the handle is white. Thanks!