Screen Spline Information

Very often when you repair a screen you can reuse the old spline. But there are occasions when you cant because the old stuff is in such bad shape. Or, you might want to make a whole new screen frame with all new materials. You might also encounter old style flat screen spline or even aluminum or steel splines and need to replace it with something more easily available
Splines is available in quite a variety of shapes and sizes for the window industry. The average hardware store or even big box store, stocks only a couple of sizes. Most likely the frame you have to work on requires the size they dont have.
Types of Spline Materials
Round Polyfoam
Round EPDM
Round Hollow Core Vinyl
Vinyl "T" Splining
Flat Screen Splining
Square Aluminum
Round Steel
Prepackaged screen splining

I have prepacked screen bead in a variety of sizes for sale. The packages are all 25 feet long which is the ideal length you need for screen doors up to 48 inches wide x 7 feet or 84 inches high.
You can also find it in the big box stores but its only 0.160 and 0.180 diameter Polyfoam, and only 20 feet instead of 25.
I have sizes such as 0.250 or 1/4" diameter polyfoam, which is great for fixing old frames from the 1950's and 1960's.
Shipping and handling within the Continental United States and Canada is included with the price. All shipments are by mail, by parcel post.
If you need longer lengths or sizes that are not listed here, just ask !
Round Polyfoam

Splining comes in rolls that look like electrical wire, except it is solid all the way through. In the big box stores you will most often see "Polyfoam" which is like foam rubber except with very small air bubbles. It is available in sizes measured in decimals of an inch. For Example #140 is .140 of an inch. Polyfoam is the the easiest for the novice to work with.
The most common sizes or diameters in Southwestern Ontario, Canada, where I live are .160, .180, .200 and .250 inches diameter. I believe the above sizes are pretty common across North America too. The sizes used depend on who the predominant supplier of windows was when most of the houses were built in your area.
The .250 size replaces the 1/4" aluminum that was used in houses built in the fifties and sixties. This size is particularly easy for the do-it-yourselfer to roll in.
Round EPDM

Splining is made in many different materials . There is EPDM which is a kind of very flexible rubber with added chemicals to make it UV resistant. EPDM is a longer lasting material than the polyfoam, but like all plastics, it can become brittle with exposure to the sun.
One useful property of EPDM splining, is that you can stretch it a little as you roll it in the spline channel, making it easier to roll in. EPDM is more commonly seen in screens with very small spline diameters like .120"
There is also hollow core vinyl. Hollow core vinyl can be stretched as you roll it in like EPDM. This helps if the diameter is just a little too big for the frame you are working on. Polyfoam is best for the beginner though because it can be used in wider variety of frame styles and is easier to roll in.
"T" Splining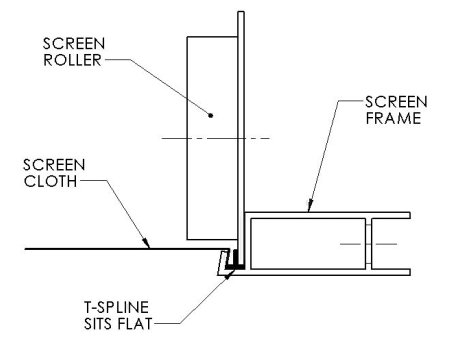 There is also "T-splining" that is used a lot in the very thin screen frames used in aluminum storm doors. This is usually made of extruded vinyl and its cross section has the shape of a letter "T". It also is available in the same size descriptions as polyfoam.
When you roll this in you have to get the flat top of the letter T to lay down in the spline channel. That way it locks the screen material in place much more surely than regular polyfoam splining. With the T stuff however, you have to have exactly the right size, otherwise it just will not work.
Most "T" spline is Black coloured Vinyl. In the past some window manufacturers used white vinyl. Trouble is, the white vinyl became so brittle in the sun so that when you try to remove it, it just turns to powder!. If you have white vinyl splining to replace, count on spending quite a while to scrape it out.
Flat screen splining and
other strange shapes

Some window manufacturers have used weird and wonderful shapes in their custom screen doors in the past. Many screen doors built in the 1950's used flat gray vinyl to hold the screen in. Flat screen spline is not easily available but in some cases you can substitute "glazing stop" vinyl and it will work fine.
Glazing stop vinyl is normally used to cover the edges of the exposed glass around the perimeter of aluminum windows. Check with your local glass shop to see if they have glazing stop vinyl similar in size and shape to your flat screen splining.
Other shapes you may run into are hollow 1/4" square aluminum used in windows from the sixties. This can easily be replaced with 1/4" diameter round polyfoam spline.
Some screens from the 1940's used round steel bars to hold the steel screen cloth in. This is certainly reusable if you don't mind hammering it back in again. No question these screens are 10 times stronger than anything available today.
Personally though I find its easiest to replace the steel with 1/4" diameter polyfoam and regular fiberglass screening.
What size do I need ?

Do you need to identify what size you need ? If you have a piece of the old splining you can compare it with this downloadable screen size chart. Just click on the link below and print it out and compare your sample with the sizes shown.
Spline Size Chart
(Downloadable PDF)
You can also send me a digital picture. The best way is to send a picture with a piece of old spline lying on a measuring tape. As long as I can read the measuring tape, I can measure your spline from the picture very accurately.
Here's an example of a piece of screen spline from an Airstream trailer. By using the tape measure as a reference, I can figure out the size of the spline.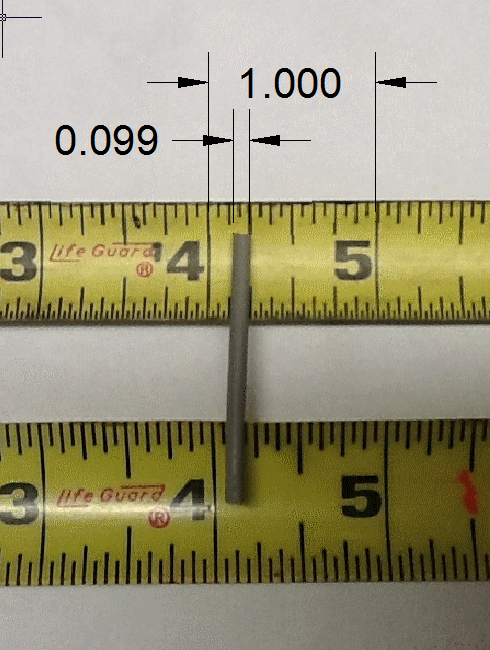 Questions & Answers about Splining

Dimensions of screen groove
I get a lot of questions from visitors about splining so I have posted some of them below in the hopes that your own questions might be answered.

by Doug B
(Ottawa, On)
Sirs

I am constructing several cedar screen doors and would like to know the spline grove dimensions for .180" splining.
If the splining is .180" and I use aluminum screening what would be the correct grove width and depth?

Regards

Doug B

Hi Doug;

For polyfoam, (The kind thats most often available at local hardware stores )the groove is usually the same diameter as the splining.

Aluminum screens either use a tapered groove, or a ridge at the top that kicks in about .005 of an inch, as a means to stop the splining from rolling out.

I would suggest cutting a test groove and consider using ribbed splining 0.180" diameter. The ribs may offer more grip or bite in a rectangular groove in wood.
Old aluminum and steel splining
by Jim P
I,m having problems figuring out how to replace the screen on an Anderson screen window. It has no spline, and seems that they use solid aluminum splining strips

Many companies used hollow square aluminum tubing and even solid 1/4" steel rod for spline back in the 1950's and 1960's.

You can replace the aluminum and steel spline with 1/4" diameter plastic, either polyfoam or vinyl.

To remove the old, you will need to use a sharp awl and dig into a corner of the screen frame to hook the aluminum out of the channel. Just make sure you have the plastic screen to replace it first !

Be glad to help if you cant find the right size splining locally.
Where can I find square screen splining
by Harry P
(Beaufort, SC)

I was looking for square vinyl, so far no luck. I have a piece of it that a contractor brought over, it basically replaces really old .180 spline where the .180 standard splining just rolls out of the channel. Every heard of it or know where to get it?

Thanks
Harry
Old rope style screen splining

by David W
(Topeka, Kansas)

Hi

I am going to build some replacement screen windows for a cabin. Instead of the traditional wood/wood molding the screen frame has a mortise in the center and what appears to be a very narrow rope material which holds the screen in place.

I need to copy this technique as the restoration needs to be like others in the community. Some old vacation cabins. My question is where do I buy the roping material which fits into the mortise and secures the screen. The mortise looks to be about 1/8 to 3/16 wide and maybe 3/8 to 1/2 deep.

Thank you

Hi David;

It sounds like the builders of your cottage borrowed a technique from the canoe and chair building industry. They used a channel and forced in a rope or wooden splining to hold the screen in place.

Usually I replace this with black polyfoam splining which is comes in diameters of 0.160" all the way up to 0.250". The 0.250 inch diameter was a very common size from the 1940's through the 1960's.
I can sell you a roll of 0.250 polyfoam spline.

If you want to try your hand at the original rope technique you will probably need to experiment with a few different sizes of rope. Boat builders, especially those who build traditional wooden canoes would probably know of suppliers for this material.

Spline selection
by Bill Karr
(Bradenton, Fl, USA)
Question:

How does one select the correct splining? I replaced screening on a pool enclosure door. The old spline was flat. I found it extremely difficult to insert new flat splining in one area of the door and wondered if a round spline should have been used. Can the type of splining required be determined by examining the splining slot? If so and round is required, how does one determine size and smooth or ribbed splining.

Answer:

If the original door used flat splining then you need to use the same spline to replace it. Some enclosures from the 1950's and 60's use flat "glazing vinyl" instead of the round splining we use today.
T splining sources and installation
Where do I get T splining and are there any tricks or anything I should know about installing it?
Thanks, A.Brown Jr.

I sell T splining, I just need to know the size you need. The picture shows how T splining is installed with the T shape upside down where it locks the splining into the channel.

What length does the T shape come in ? and how do i know what the Size is that i need ?

I have T Splining in a few sizes that I can sell by the foot. You can also buy it in 100 to 200 foot rolls as well as rolls with 1000 feet for contractors.

The most common sizes that I find are .180 inch for sliding screen doors and .250 inch for storm door screens.

It is made in .010 inch steps as follows: .160, .170, .180, .190 and so on up to .250 inches. The size is measured across the width of the "T"
Rolling "Pet Screen" into patio extrusions with 5/16 flat splining.
by Taylor
(Laurens, South Carolina, USA)

Pet Screen installation is "ABSOLUTELY BRUTAL".

I'm building a rather large porch using walls of patio aluminum extrusion, 5/16 flat spline, and a product named "Pet-D-fence" 15 X 11, .025 material.

The material does roll very tight into the spline groove but the strength required to roll the spline in is incredible. I do roll the screen into the groove before actually rolling in the spline. Lubricating with saliva seems to help. I'll likely become de-hydrated before rolling-in the planned 380 feet of spline, however.

I will not sacrifice strength of the application just to make it easy. However, is there some lube to use that will leave the rolled joint dry strong & tight for the long term, and not degrade the spline material, screen material, or aluminum powder coat?

Regards,
Don

Hi Don,

With any screen material, the force required to roll the spline in is not supposed to be excessive. You need to use a smaller spline than your screen frames originally used because pet screen is much thicker.

The size of spline you pick has to be a balance between ease of rolling in and holding power. With pet screen, the material will be able to pull out of the frame with enough force.

But that is generally an advantage because it can be rolled back in where normal screen would tear and have to be replaced.

The only way to get ultimate holding power is to have the splining forced in place in the factory with mechanical presses and special tooling. But thats only prictical if you are making hundreds screens of the same size.

One compromise might be to be use smaller pet screen panels in the lower half of the screen porch and use regular screen material in the upper panels where pets cant reach.
Flat screen bead splining
by Darren

I have an aluminum screendoor that has only screen on it no glass i think its a larson it has a nearly flat screenbead that is one quarter inch wide . it is not reusable and i cant find anything like it at the local hardware store can you help?

Darren

If you can upload a picture of the splining I can check my catalogs.
Need a 3/8 inch flat splining for screen
by dee
(Trumbull, Ct)
Cant find it anywhere and need it fixed with in four days.
Flat plastic splining - took ours out of the front door and cant find any anywhere!
by Sue Lynn
(Wakefield, NH)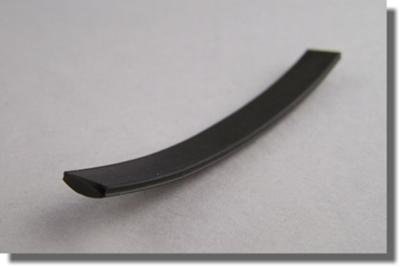 Have a metal screen/storm door that we took ripped screen out of, and now no one has the kind of splining we need to re-screen!

It's black, plastic, about 1/4 to 1/2 " wide and quite strong. do you have any idea where I can obtain more??
Where to get T-splining
for screen frames
by Steve
(Rochester, NY)
I have an aluminum sliding patio screen door. The old T splining seems to be 11/64 (0.172) inch. Do you sell any such thing, or something else that would suffice?

Right now I only need 2 inches of the stuff, but it would be nice to have enough to re-do the entire screen.

I can buy 25 feet of 5/32 (0.156) t splining. Would that do? The only place selling 11/64 t spline sells only 500 feet of the stuff.

For the 2 inch gap I want to fill, can I use round rubber splining?

Hi Steve;

With T splining you have to use the size the frame was designed for. If you use .156 in a frame designed for .171 the spline may push out too easily.

I have .175 T splining and I can sell you 25 feet. $3.50 plus shipping. Let me know if you want me to send you some.
I want to change my screen material, but now the splining won't fit

by Terri M
(Lansdale, PA)

My dogs went through the last door with their claws. When I bought a replacement, i bought screening that is pet resistant.

I could put it into the door groove, but when i went to reuse the spline, it won't fit. It's an odd shape anyway, it's built like a "T" on the cross angle, not round like a straw or rope.

So I'm wondering if I am best suited replacing the screening again with something that matched old, or trying other splines out till I find one that may fit.

Hi Terri, what you need is called T-spline and its available in many different sizes. Usually when you replace your screen with petscreen, you need a spline size thats slightly smaller than was used before. Call me at 905-467-0233 and I will help figure out what size you need
Splining on outside?
We had a custom sized set of French doors replaced at our house, and since the contractor did not get a screen door from the supplier, he had another one made by a different contractor. The door works fine, but I noticed that the splining is on the outside of the door. Is this common? I have always seen them on the inside, as we are more concerned with it looking nice from the exterior of the house.

Usually the splining is one the outside, but there are a few models as you have noticed, which have it on the inside.

It makes no difference in the operation and use of the door. Just which side you install the screen on when it is required.

I Have a sliding screen door, trying to replace spline, the opening is quarter of an inch. where could I find the splining to fit the opening ?

I have 1/4 inch polyfoam. Let me know what length you need. Send an email to the email address on the home page of fixingscreens.com or phone me at 1-800-467-5109

Matching Mortise Size to Splining Size
Oakville ON, Canada

Strong winds off Lake Huron occasionally tear large fibreglass screens out of their wooden frames on the screened porch at my summer home. The screens are stapled to the frames and have a wooden moulding nailed on top. The problem recurs despite large numbers of closely spaced staples and nails.

For future repairs I plan to rout a channel into the wooden frames and secure the screens with splining before replacing the mouldings. This strikes me as probably much stronger and less likely to tear.

My concern is to properly match the the size and material of the splining with the width and depth of the routed mortise in the wood. Should the splining be the same size as the slot, a bit smaller for snugness or larger to allow for the screen thickness? Router bits usually come in sixteenth inch gradations - 1/8", 3/16" or 1/4". What do you recommend for both slot size and splining size and material?